Update 2023-01-21: Packet: Dollar General rezoning again, VLDA appointment, 2 subdivision infrastructure, special assessment rate, DA VOCA, server blades @ LCC 2023-01-23.
If you do not think "commercial and shopping options in Lowndes County" should include a development foothold in an agricultural and forestry area, here are ways you can oppose it: a survey, a petition, letters, call your Commissioner, and speak in the Public Hearing.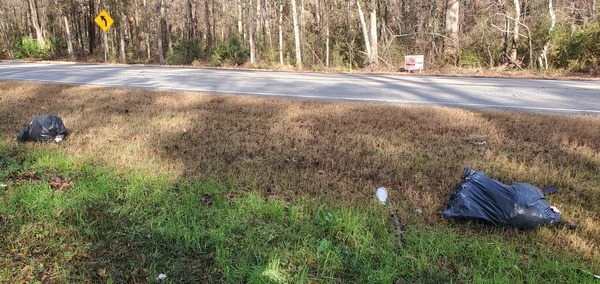 Trash bags across GA 122 from the rezoning notice sign
Somebody identified only as "Joe w/ WG Research" is sending text messages with a survey that includes this question:
4. Would you be in favor of a new and architecturally enhanced Dollar General in North Lowndes County located on GA Hwy 122?
No doubt they want to hear from everybody. So please answer the survey and get friends and relatives who oppose that rezoning to answer it.
https://survey.alchemer.com/s3/7170646/Lowndes-County?x=2DCD7BDE9 Continue reading →