Update 2023-01-24: Videos: new attorney, VLDA appointment, Dollar General rezoning, 2 infrastructure, special assessment rate, VOCA @ LCC Work 2023-01-23.
Update 2023-01-23: Please deny Dollar General rezoning, GA 122 @ Skipper Bridge Road –WWALS to Lowndes County 2023-01-23.
The rezoning for a Dollar General is back on the agenda for the Lowndes County Commission to review Monday morning and to decide Tuesday evening.

Agenda, Dollar General rezoning
They will also decide on reappointing Brad Folsom to the Valdosta-Lowndes County Development Authority. interest rate for paving and utility assessments, authorization for D.A. to accept federal VOCA grant funds. and the only thing listed as costing money: server blades replacing those at end of life.
Reminding us what happens when the development camel gets its head under the agriculture and forestry tent, there are two acceptances of subdivision infrastructure over on and near Val Del Road, some of the numerous developments since the county ran water and sewer to Nelson Hill on Val Del.
Meanwhile, Dollar General does not seem to know where its stores are, and the lot layout it submitted is not binding, yet we should trust them to handle wetlands appropriately, just uphill of Poley Creek and the Withlacoochee River?
The Rezoning Plat shows "STATE ROUTE 122" going both east-west and north-south (instead of Skipper Bridge Road). And its title bar says "NORTHEAST INTERSECTION OF US HIGHWAY 19 AND HIGHWAY 202". That intersection is north of Thomasville.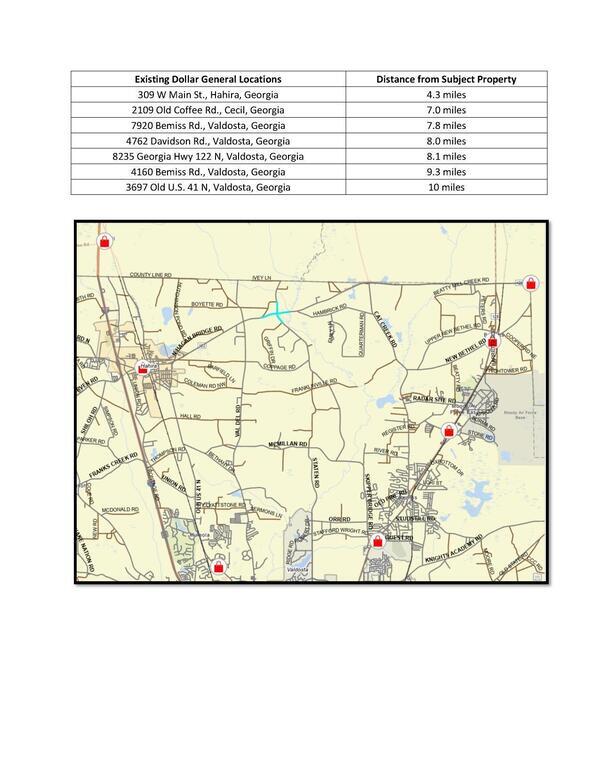 Table of existing Dollar General locations and distances
PDF
The table of distances to existing Dollar Generals does not include the one in Ray City, 8.5 road miles away, closer than the ones listed on Bemiss Road and Old US 41 N.
The Dollar General the table lists at 7920 Bemiss Road, which is the corner of New Bethel Road in Barretts, does not exist. Maybe they confused that address with 7290 Bemiss Road at Walkers Crossing (GA 125 @ GA 122), which is 6.7 miles away, closer than all of them except the one in Hahira.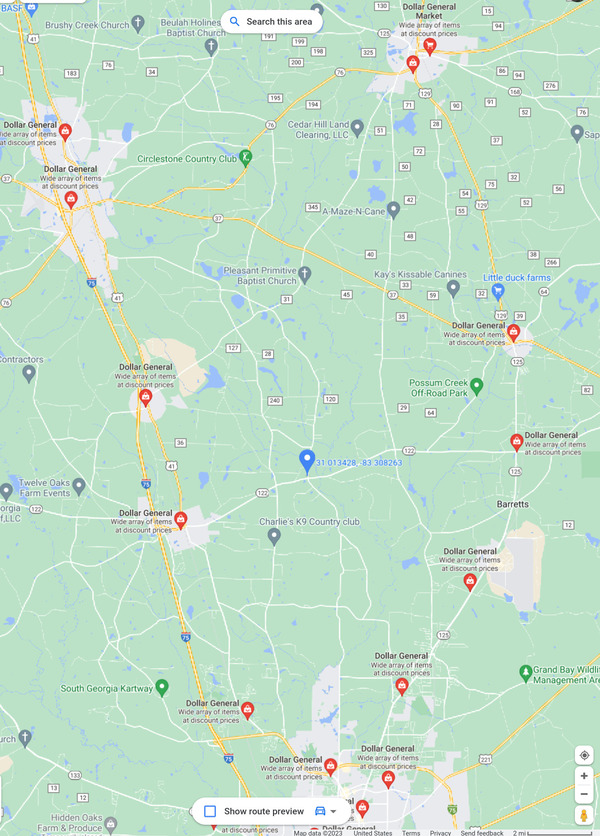 Map: Dollar Generals near GA 122 @ Skipper Bridge –Googlemaps
Five minutes on google maps produced a better map than theirs.
The Site Plan Aerial shows part of the parking lot and part of the store on wetlands.
But apparently the site plan doesn't really matter, because the agenda sheet says: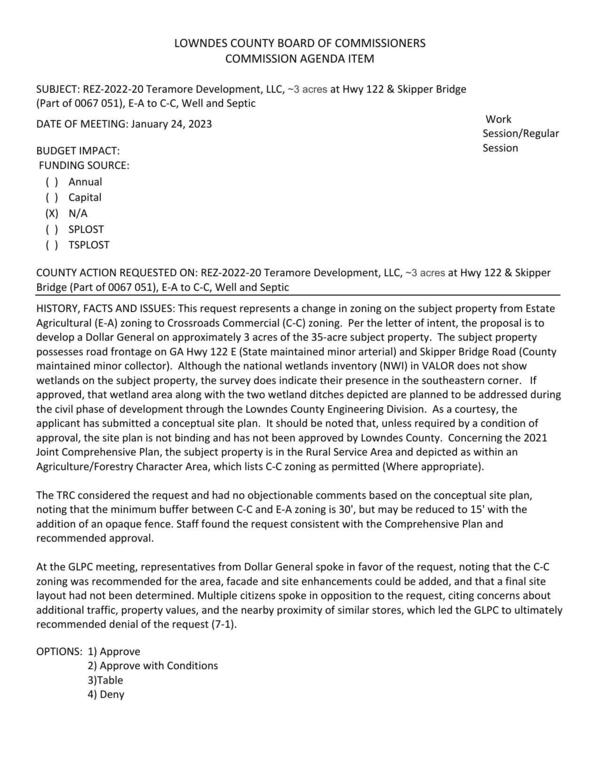 to develop a Dollar General on approximately 3 acres of the 35-acre subject property. GLPC recommended denial 7-1.
PDF
Although the national wetlands inventory (NWI) in VALOR does not show wetlands on the subject property, the survey does indicate their presence in the southeastern corner. If approved, that wetland area along with the two wetland ditches depicted are planned to be addressed during the civil phase of development through the Lowndes County Engineering Division. As a courtesy, the applicant has submitted a conceptual site plan. It should be noted that, unless required by a condition of approval, the site plan is not binding and has not been approved by Lowndes County.
We should trust a company that does not know where its own stores are?
Apparently nobody has sent in any more letters than weeks ago, since the packet of correspondence is identical to that I posted five weeks ago.
Here is how you can contact the Lowndes County Commissioners.
Here is the agenda. The board packet, received in response to a LAKE open records request, is on the LAKE website.
LOWNDES COUNTY BOARD OF COMMISSIONERS
PROPOSED AGENDA
WORK SESSION, MONDAY, JANUARY 23, 2023, 8:30 a.m.
REGULAR SESSION, TUESDAY, JANUARY 24, 2023, 5:30 p.m.
327 N. Ashley Street – 2nd Floor
-jsq
Investigative reporting costs money, for open records requests, copying, web hosting, gasoline, and cameras, and with sufficient funds we can pay students to do further research. You can donate to LAKE today!
Short Link: