What do the American Federation of State, County and Municipal Employees, The Sentencing Project, the NAACP, and the Southern Poverty Law Center have in common? They all want states to reject
CCA's offer to 48 states to buy prisons.
Right here in Lowndes County, our Industrial Authority wants to go one better for CCA and help
build a shiny fresh new private prison with our tax dollars.
PR from yesterday, ACLU Urges States to Reject CCA Offer to Privatize Prisons,
The American Civil Liberties Union and a broad coalition of 60 policy and religious groups today urged states to reject a recent offer by the nation's largest private prison company to buy and privatize state prisons.

In a letter sent to governors in every state, the ACLU and 26 other organizations said a recent offer by Corrections Corporation of America (CCA) to buy prisons currently run by state officials is a backdoor invitation to take on additional debt while increasing CCA's profits and impeding the serious criminal justice reforms needed to combat the nation's mass incarceration crisis.

Two similar letters are also being sent today by religious coalitions to governors. One of the letters, sent by 32 faith groups including the United Methodist Church General Board of Church and Society, the United Church of Christ/Justice and Witness Ministries, the Episcopal Church and the Presbyterian Church (U.S.A.) Office of Public Witness, says there is a moral imperative in reducing incarceration through evidence-based alternatives to imprisonment and re-entry policies that ease the transition of prisoners back into society. A third letter, from the Presbyterian Criminal Justice Network, argues that the principles of mercy, forgiveness, redemption and reconciliation are largely absent from the private prison industry.

"Selling off prisons to CCA would be a tragic mistake for your state," the ACLU's letter reads. "[CCA's] proposal is an invitation to fiscal irresponsibility, prisoner abuse and decreased public safety. It should be promptly declined."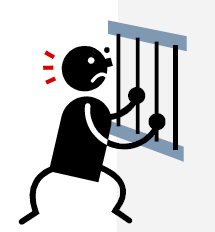 You can help decline CCA's private prison in Lowndes County.
-jsq