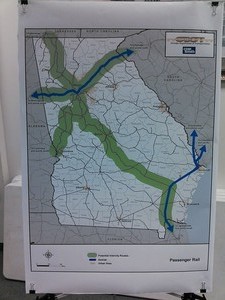 All aboard for the second and last rail plan meeting in Valdosta tonight. Maybe you see something missing in the current passenger rail corridor proposal pictured on the right. Maybe you'd like to suggest some changes or additions.
Stuart Taylor wrote for the VDT today, Rail plan meeting scheduled,
Georgia Department of Transportation will host a 2014 Georgia state rail plan public meeting from 5-7 p.m. Thursday, April 17, in the Valdosta City Hall Annex, 300 N. Lee St.
Continue reading