Update 2023-01-10: Public Notice: Rezoning REZ-2022-20, GA 122 @ Skipper Bridge Road for a Dollar General 2023-01-08.
Update 2022-12-22: Videos: Lowndes County buys land from Helen Tapp for Troupville Nature Park and River Camp 2022-12-13.
The Lowndes County Commission tabled the rezoning for a Dollar General on GA 122 at Skipper Bridge Road until January 24, 2023, because they were a day short on required notice.
A dozen or more people in opposition were visible.
Turns out the county did send the correspondence about that before I asked for it in this meeting, and within the statutory three days for answering a Georgia open records request. All the letters returned were in opposition.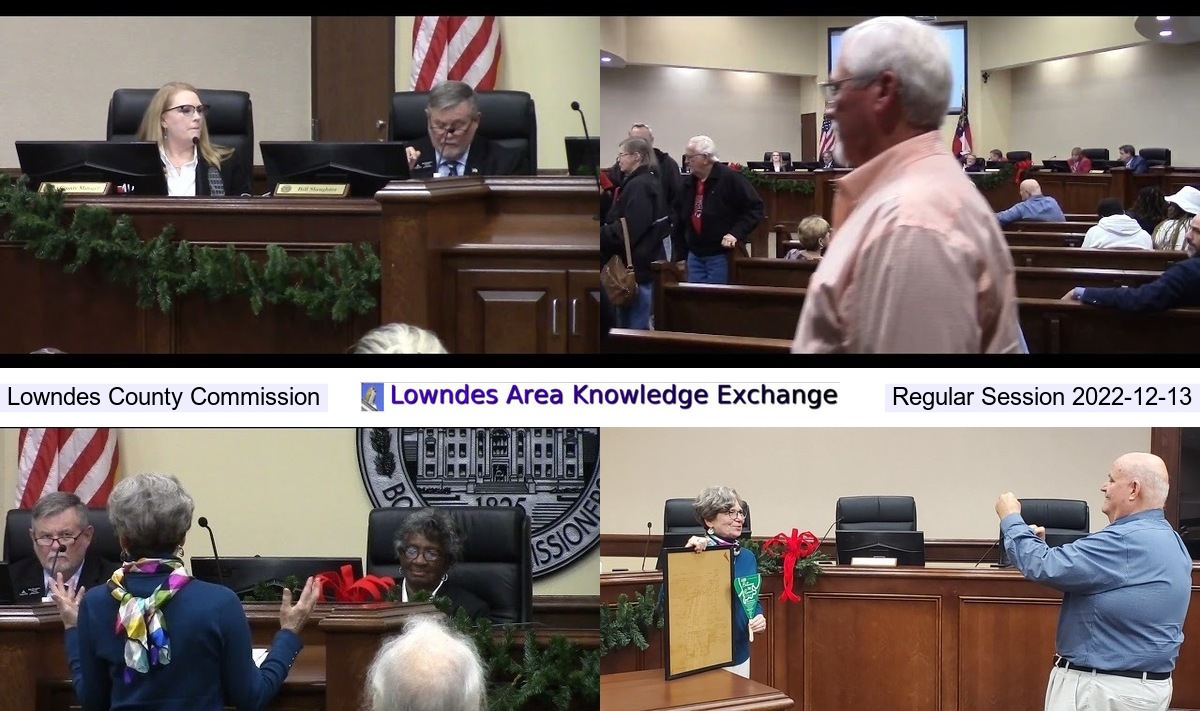 Collage @ LCC 13 December 2022
They made the historic purchase for Troupville Nature Camp and River Park, of Land Between the Rivers at the Little River Confluence with the Withlacoochee River. And Chairman Bill Slaughter called seller Helen Tapp up to say a few words.
Apparently they are also modest, since some of them did not seem to like compliments about that purchase.
They reappointed Franklin Bailey to the Greater Lowndes Planning Commission (GLPC).
Everything else passed unanimously.
In Citizens Wishing to be Heard, Kelly Saxon asked for assistance for the homeless, John S. Quarterman complimented the Commission on purchasing the Troupville land, and Blake Robinson said there may not be many young people who come to these meetings, but they do appreciate the local government work the Commissioners are doing.
Below are links to each LAKE video of each agenda item, with a few notes by Gretchen Quarterman, followed by a LAKE video playlist. See also the rezoning correspondence as of the previous morning, the LAKE videos of the LCC Work Session, the LCC agenda the LCC board packet, the LAKE videos of the GLPC meeting, an early LAKE report on the GLPC meeting, and the GLPC board packet.
Here's a LAKE video playlist:

Dollar General rezoning tabled, Troupville Nature Park land purchased @ LCC 2022-12-13
Regular Session, Lowndes County Commission, Valdosta, Lowndes County, Georgia, December 13, 2022.
Videos by Gretchen Quarterman for Lowndes Area Knowledge Exchange (LAKE).
-jsq
Investigative reporting costs money, for open records requests, copying, web hosting, gasoline, and cameras, and with sufficient funds we can pay students to do further research. You can donate to LAKE today!
Short Link: