The U.S. and China made a historic deal on climate change this week.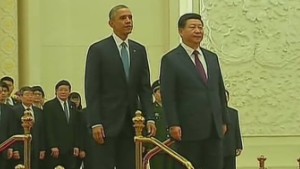 Here's the good (it's real, it's huge, and it's positive economically for both countries), the bad (nuclear is first on the list of those "clean energy" sources), and the ugly. Also this week China made a second huge natural gas deal with Russia: what does that mean to the current U.S. push for LNG exports, including the proposed Sabal Trail pipeline gouge through Georgia?
The Deal
Rebecca Leber, The New Republic, 12 November 2014, The World Has Waited for the U.S. and China to Take Action on Climate Change. They Just Did.
President Barack Obama and Chinese President Xi Jinping announced on Wednesday commitments to reduce both countries' greenhouse gas emissions. The surprise announcement, which came while Obama visits Beijing this week, is the clearest sign yet the two countries are serious on climate change.

After months of negotiations Continue reading →