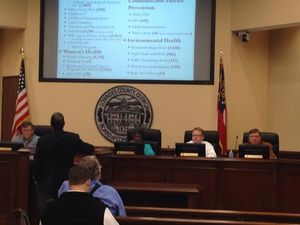 Dr. William R. Grow, District Health Director, presented about the state of the Health Department, and County Manager Joe Pritchard reported revisions to both the county's Solid Waste Ordinance and the franchise agreement for solid waste were in progress. They ended by going into an executive session to discuss real estate.
For Parks and Rec Board, former Lowndes County Commissioner Richard Raines read a prepared statement, while Scott Willis, hearing specialist with Hearing Care Resources, gave an extemporaneous presentation, including that he was formerly on the VLPRA Advisory Board, and he's been coaching children and working with the elderly. Commissioners had no questions for either applicant.
Tonight they'll vote on a list of goals that is in their packet but they haven't shown you the taxpayers.
Perhaps coincidentally, Continue reading →