The U.S. and China made a historic deal on climate change this week.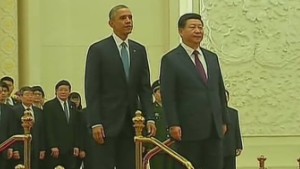 Here's the good (it's real, it's huge, and it's positive economically for both countries), the bad (nuclear is first on the list of those "clean energy" sources), and the ugly. Also this week China made a second huge natural gas deal with Russia: what does that mean to the current U.S. push for LNG exports, including the proposed Sabal Trail pipeline gouge through Georgia?
The Deal
Rebecca Leber, The New Republic, 12 November 2014, The World Has Waited for the U.S. and China to Take Action on Climate Change. They Just Did.
President Barack Obama and Chinese President Xi Jinping announced on Wednesday commitments to reduce both countries' greenhouse gas emissions. The surprise announcement, which came while Obama visits Beijing this week, is the clearest sign yet the two countries are serious on climate change.

After months of negotiations with China, Obama has pledged the U.S. to cut emissions between 26 and 28 percent below 2005 levels by 2025. This is double the pace of carbon cuts the U.S had already pledged to reach by 2020.

But China's commitments might be even more unexpected, because it is the first time the growing economy has committed to a year for capping its emissions—seen as a crucial step for avoiding the worst-case scenarios of global warming. Xi pledged this will happen around 2030, though it will try to reach this peak as early as possible. China also agreed to increase the share of energy that doesn't come from fossil fuels to 20 percent by 2030.

Together, the U.S. and China are responsible for 45 percent of global emissions. For that reason alone, they are the most closely watched countries in the year before climate change negotiators convene in Paris to set post-2020 goals that finally slow carbon pollution.
Not that unexpected if you've been paying attention, as China has to because of its beyond-hazardous air pollution:
About that last I wrote: "So this path will not only improve Chinese quality of life by getting rid of massive pollution by reducing emissions 90% from otherwise-projected levels; it will also give Chinese citizens more money in their pockets."
The Good
Here's somebody else that gets it that clean energy is the path to prosperity. Sierra Club Executive Director Michael Brune, 12 November 2014, Racing to the Top with China,
Such rapid clean-energy growth will accelerate a positive feedback loop. As China drives toward its goal, clean energy prices will continue to drop. Solar and wind are cheaper than fossil fuels in many places already; as prices plummet even further, the transition from dirty fuels will pick up speed, helping China, the U.S., and other countries meet and exceed their climate targets and save money in the process.

The U.S. and China aren't acting out of sheer altruism, though — both countries will also gain tremendously by leading the transition to a clean-energy economy. Sure, cutting carbon pollution is a driving factor, but there's enormous benefit in doing so. Fighting climate change is something that we get to do, not just something that we have to do. According to the Center for American Progress, an accelerated transition to clean energy in this country will create 2.7 million new jobs in the clean energy sector nationwide. No doubt the Chinese have performed a similar calculus.
White House PR, 11 November 2014, FACT SHEET: U.S.-China Joint Announcement on Climate Change and Clean Energy Cooperation: President Obama Announces Ambitious 2025 Target to Cut U.S. Climate Pollution by 26-28 Percent from 2005 Levels, includes more about efficiency and "Economy-wide Measures to reduce other Greenhouse Gases" including methane.
The Bad
That same White House PR (emphasis mine):
China's target to expand total energy consumption coming from zero-emission sources to around 20 percent by 2030 is notable. It will require China to deploy an additional 800-1,000 gigawatts of nuclear, wind, solar and other zero emission generation capacity by 2030 — more than all the coal-fired power plants that exist in China today and close to total current electricity generation capacity in the United States.
The buried list is in exactly the wrong order, with nuclear first. Nuclear plants (including Plant Hatch, about 100 miles from where I type) leak radioactive tritium and use massive amounts of water for cooling, just like coal or gas plants.
The order should be solar, wind, and other, including conservation and efficiency.
But hey, it's a start, and it's a big step beyond everything before this week.
And at least no emissions does exclude natural gas.
The Ugly
But fracked methane and China are in the news this same week, following a previous deal. Richard Martin, Forbes, 30 May 2014, Russia-China Gas Deal Narrows Window for U.S. Exports,
Russia and China's grand bargain on energy, a 30-year, $400 billion deal to pipe natural gas from Russia's Far East to China, has prompted much commentary on the agreement's potential to reshape global energy markets and tilt the balance of influence in Ukraine and, more broadly, in Europe. The deal has "upped the ante for Europeans to diversify their gas imports away from Russia," said Erica Downs of the Brookings Institution; it means producers of liquefied natural gas (LNG) "may face more competitive markets in Japan and South Korea, which together bought more than half of the world's supply in 2013," wrote Chou Hui Hong, a Singapore-based reporter for Bloomberg News; "the implications are potentially huge for Russia, for China and much of Asia, and also for Europe," declared Keith Johnson, covering all the bases in Foreign Policy.

All the bases, that is, except one: the United States. The shale gas revolution in the States has led natural gas producers to envision an export boom in which U.S. companies become key suppliers to East Asia while countering Russian influence by shipping large amounts of LNG to Europe. President Obama said in 2012 that the U.S. is becoming "the Saudia Arabia of natural gas."
OK, that's also part of the bad news: the same U.S. president who just made the historic climate change deal with China is pushing LNG exports.
But the Forbes article followed up its title article with maybe some good news:
Better Hurry

Indeed, U.S. petroleum exports reached 3.5 million barrels a day in 2013, roughly double the level of 5 years ago, according to the Energy Information Administration. Proponents of increased LNG exports argue that the gas export boom will bring in billions in profits for American companies, create thousands of high-paying jobs, and reduce the influence of undesirable LNG suppliers, i.e., Vladimir Putin's Russia.

All of that is, potentially, true. But there are signals that, even before the Russo-Chinese gas deal, natural gas advocates were overstating the potential market. And with China building pipelines to ship LNG across Central Asia, the market opportunity is dwindling fast.

The United States has been slow off the mark in building export capacity. Thirty-one applications for LNG export licenses have been approved since 2011; only seven have been approved, six conditionally.
The article says that even with authorization of Cove Point LNG exports from Maryland, about the projected shipping date of early 2017:
That could be too late.
The apparently hugely higher methane prices in overseas markets aren't really that much higher if fracking pushers have to liquefy the gas and send it by slow ships. And the low price China is paying for Russian gas "is putting downward pressure on higher prices for Japan and South Korea".
Prices just got uglier for the fracking pushers: Nick Cunningham, Christiam Science Monitory, 12 November 2014, Russia in weak position for new gas deal with China: The new natural gas deal between China and Russia is lopsided in China's favor. Western sanctions, plunging oil prices, and a plummeting currency all put Russia at a bargaining disadvantage vis-à-vis China.
In a continued shift towards the east, Russia has inked a second major natural gas deal with China.

The latest deal, worth a bit less than the landmark $400 billion natural gas deal in May 2014, could see major volumes of natural gas flowing into western China. Exact terms have yet to be agreed upon.

What is unique about this deal is that the natural gas will actually come from fields that also service European customers. The move would provide Russia with enhanced flexibility, giving state-owned natural gas company Gazprom the ability to shift natural gas exports from Europe to China if it sees the need to do so.
And there's the even uglier question: do China's gas deals with Russia open the European market to fracking pushers via U.S. LNG export? Or do they push down the price of methane enough to make LNG export no longer profitable?
The CSM story says about the previous deal in May:
The breakthrough in negotiations came as a result of the standoff between Russia and Europe over Ukraine, which made Russian President Vladimir Putin more anxious to cut a deal with China. As a result, China prevailed over Russia on its pricing demands. That agreement could see 38 billion cubic meters of Russian gas exported to China beginning in 2018. It would involve the development of natural gas fields in Siberia, plus the construction of new pipelines connecting into China at multiple points in the east.
More production in Siberia could let Russia supply both Europe and China. Which would push gas prices down even more. Plus:
The latest deal will likely be even more lopsided in China's favor. That is because Russia's leverage has been severely diminished in just the few months since the May 2014 deal. Western sanctions have struck a severe blow to the Russian economy. A 30 percent decline in oil prices is likely blowing a huge hole in the Russian budget, which depends on oil and gas exports for 52 percent of its budget revenues.
U.S. LNG exports will have a hard time competing with bargain-basement Russian pipelines.
Sad News for Sabal Trail?
So it's no wonder that Sabal Trail will probably file for the FERC formal permitting process very soon after the latest 15 November 2014 (tomorrow) FERC comment deadline. Even if Spectra and FPL get their FERC permit for Sabal Trail on the timeline they want, they don't plan to have any methane flowing until 1 May 2017. And, as Forbes said about Cove Point LNG:
That could be too late.
This has to be at least one reason why FERC is nervous about being watched. And Sabal Trail has to be very nervous about Dougherty County and Terrell County, Georgia passing resolutions against Sabal Trail.
What if more counties ask, like Dougherty County did, for this:
SECTION III We ask that serious consideration and analysis be given to the alternative route through the Panhandle of Florida, a copy of which is attached hereto.
That would cost Sabal Trail a bundle to go bully landowners for survey and easements in a whole bunch of new counties. Which could bust even their May 2017 start shipping date. Which would stick a pin in Williams Company's Atlantic Sunrise project to pipe Marcellus Shale gas through Transco to Sabal Trail. And could crimp Spectra's PennEast pipeline co-venture. It could pop the carbon bubble.
Opposition in Hamilton County, Florida and elsewhere has already busted Sabal Trail's 31 October 2014 formal filing date.
The news for Sabal Trail is unrelentingly bad, and getting worse, including for example Sabal Trail making the Georgia Water Coalition Dirty Dozen 2014.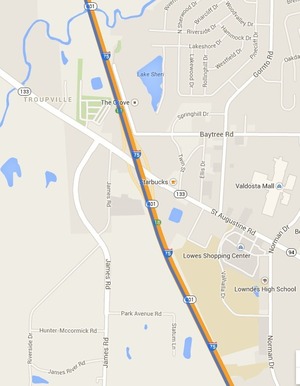 All but two proposed routes would go through Lowndes County, Georgia, and three of them would go right past Lowndes High School. So far the Lowndes County Chairman wrote a letter to FERC saying existing permits must be followed but then did nothing as Sabal Trail drilled test wells next to the Withlacoochee River. But there's already one new Commissioner, and two more start in January, both of whom are not exactly fans of that pipeline. What if Lowndes County listened to what its citizens told it yet again Tuesday and passed a resolution against the pipeline? What if the Valdosta City Council emulated Albany, Georgia and passed a resolution? What about the Lowndes County Board of Education?
What if Sabal Trail lost Georgia?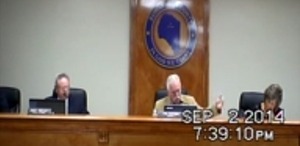 Every proposed route of that pipeline, including Dougherty County's proposed bypass-Georgia route, would go through Suwannee County, Florida. Which could could explain why Sabal Trail co-conspirator FPL talked to the Suwannee County Commission Chair who immediately backed off on opposing the pipeline. But that Chair is not going to be on that Commission anymore come January, and at least one of the newcomers is vociferously opposed to the pipeline. What if Suwannee County passed a resolution against the pipeline?
What if Sabal Trail lost Florida?
What if those or other county commissions or city councils passed legally-binding land-use or noise or other ordinances rooted in their Comprehensive Plans? That has worked against fracking in New York State and against pipelines in Pennsylvania, approved all the way to each of their state Supreme Courts. If some local government should decide to test an ordinance, such a legal battle could cost Sabal Trail many months.
Months Forbes says it doesn't have.
Which could make Spectra fold like it did in Virginia after several counties passed resolutions against a pipeline, or like Williams did when it "suspended" its Bluegrass Pipeline in Kentucky after massive public opposition and a judge ruled Kentucky eminent domain doesn't apply.
That would be so sad, don't you think?
For profiteering fossil fuel companies and regressive utilities.
The rest of us already know we can power the whole world on sun, wind, and water, and we can get on with it without wasting any more time or resources on fracked methane pipeline boondoggles. There are already more solar jobs than in non-managerial oil and gas extraction.
Let's follow the sun to clean air, clean water, and clean jobs.
-jsq
Short Link: