Where does Spectra Energy's natural gas come from, and where does it go? These maps from the Moultrie meeting help explain. Spoiler: from fracking to FPL.
In "Our Portfolio of Assets", Spectra Energy shows pipelines running from shale gas formations in and around Pennsylvania and down the Appalachians into Tennessee, through north Georgia, and into Alabama, as well as from gas storage facilities in Louisiana and shale fields in Texas.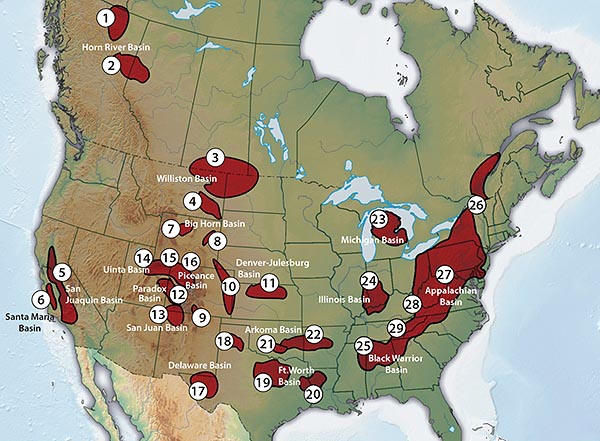 So that's where it comes from: the Marcellus Shale and its relatives down through (soon) the Conasauga Shale in north Georgia and Alabama and into Louisiana and Texas. Fracking, in other words.
That was not a word that was used by any of the Sabal Trail reps nor a word that appeared on any of their maps or in any of their handouts. But fracking is how natural gas is extracted from the Marcellus Shale, as Andrea Grover presumably knows, since she was sent to Pennsylvania in April to explain a Spectra Energy gas release from a compressor in Marcellus Shale country.
Where is the gas through the Sabal Trail pipeline supposed to go? Orlando, to the Sabal Trail Central Florida Hub. Why? Well, according to Andrea Grover, Florida Power and Light is "modernizing". She explained that FPL has shut down some coal plants, and is converting to natural gas. She this map of the Florida Southeast Connection:
But why run a pipeline through Georgia to get from Alabama to Florida? Andrea Grover explained that, too. FPL required in its RFP an independent third pipeline for dependability.
The Gulfstream pipeline runs underwater through the Gulf of Mexico from Alabama to Florida, and has been in service since May 2002.
The Florida Gas Transmission pipeline runs through the Florida panhandle. It's aparently been operating at least since 4 May 2009 when, according to the National Transportaion Safety Board,
Florida Gas Transmission Company's (FGT) line 100, an 18-inch-diameter natural gas transmission pipeline, ruptured about 6 miles south of Palm City, Florida. The rupture occurred in a sparsely populated rural area of Martin County and displaced about 106 feet of buried pipe onto the right-of-way between Interstate 95 (I-95) and the Florida Turnpike (SR-91). An estimated 36 million cubic feet of natural gas was released during the accident without ignition.
Hm, that may explain why, when earlier I asked a Sabal Trail rep why not run a pipeline down the median of I-10, he laughed nervously and said no, they couldn't do that…. He also said the Panhandle was difficult because of the national forests and the air force bases. That was before I saw the map showing a pipeline already running through the Panhandle.
Anyway, FPL's two existing natural gas feeds go through the Gulf and through the Panhandle. So this third one, said Andrea Grover, they want to go through Georgia as an independent redundant route. To do that they actually go north first from Louisiana, using a rented leg from Transco Station 85 up to Tallapoosa County, Alabama.
The Sabal Trail route in Georgia shown on the Florida Southeast Connection map is the earlier route marked as Option B on the map Sabal Trail sent to Lowndes County.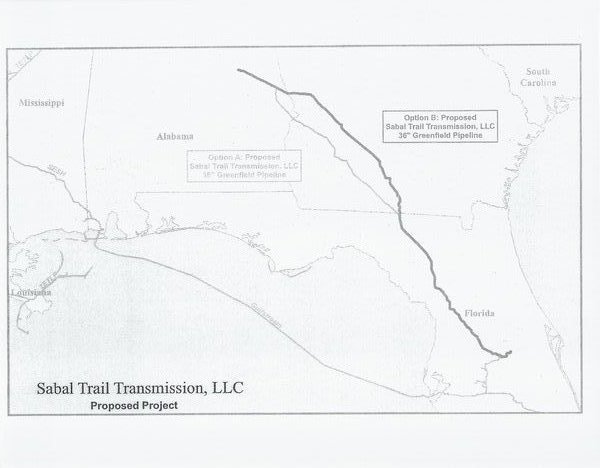 The current route is roughly the earlier Option A, and was chosen by Sabal Trail for various reasons, according to Andrea Grover, including that it partly follows some existing pipeline rights of way, and it better fits FERC criteria. Yet several Sabal Trail reps confirmed FERC gets to decide: the pipeline company sends FERC a prefered and an alternate route and FERC can pick the alternate. When I asked one rep whether FERC ever picked the alternate, he said, "it happens".
Sabal Trail's current preferred route is shown on this Project Location Map:

Pictures by John S. Quarterman for Lowndes Area Knowledge Exchange (LAKE),
Valdosta, Lowndes County, Georgia, 15 October 2013.
The preferred path runs through Tallapoosa, Chamber, Lee, Russell Counties in Alabama, through Stewart, Webster, Terrell, Lee, Dougherty, Mitchell, Colquitt, Brooks, and Lowndes Counties in Georgia, and through Madison, Hamilton, Suwannee, Gilchrist, Alachua, Levy, Marion, Sumter, Lake, Polk, Orange, and Osceola Counties in Florida.
To be continued.
-jsq
Short Link: