Update 2022-12-09: Agenda: Sprawl on Skipper Bridge Road and Purchase of Land Between the Rivers @ LCC 2022-12-12.
Update 2022-12-09: Massive citizen opposition to development foothold in agricultural and forestry area @ GLPC 2022-12-08.
The eight citizens who spoke against the Dollar General rezoning at GA 122 and Skipper Bridge Road get star billing.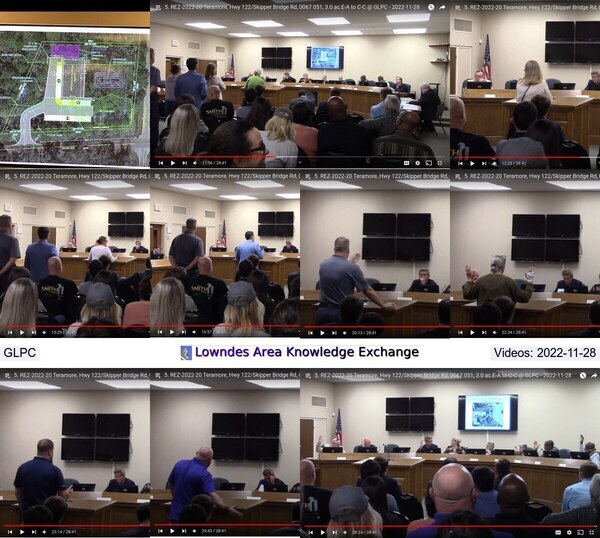 Collage @ GLPC 28 November 2022
"We don't need to have new commercial zoning in our area." —Gretchen Quarterman
"We have no interest in adding convenience to our peaceful little community." —Becky Rowntree Harris
"The river is literally my back yard." —Danielle Jackson
"Ten-day is an absolute joke." —Samuel Heath Dawson
"And the other 112 acres would be the next battle." —William Pope
"Put it across from Ashley Paulk's development." —Roxanne Newton
"Even with the goose egg [?] it's still a Dollar General and I do not want this." —Dan Richardson
"Please take the wishes of the many, versus the dollars of the few." —Last Speaker
GLPC voted 7:1 to recommend disapproval. The actual rezoning decision will be made by the Lowndes County Commission at its Regular Session, Tuesday, December 13th, 2022, 5:30 PM. If you don't want that store in an agricultural area, attracting still more subdivisions still farther north in the county, call or write your county commissioner or come speak against at that meeting. If somebody wants to start a petition, that might also help.
Or you can jump to the full meeting, in which you'll learn the Hahira deannexation was unanimously voted against, GLPC has a new board member, Ron Bythwood, and a new Chair and Vice-Chair starting in January.
So, about 5. REZ-2022-20 Teramore, Hwy 122/Skipper Bridge Rd, 0067 051, 3.0 ac.E-A to C-C. Continue reading →