Update 2022-06-14: Agenda, 4 rezonings, 2 xourts, 1 appointment, and a big ARPA-funded water project @ LCC 2022-06-16
An overflow crowd, some in the lobby, came for the four Lowndes County cases at the Greater Lowndes Planning Commission, May 23, 2022. Two of the Valdosta cases were also contentious. The whole meeting took more than three hours, so long there was griping about people getting hungry. The door alarm went off at 8 o'clock, but they plowed ahead with three remaining cases. When they adjourned at 8:52 PM, nobody was left in the audience but Gretchen Quarterman with the LAKE video camera.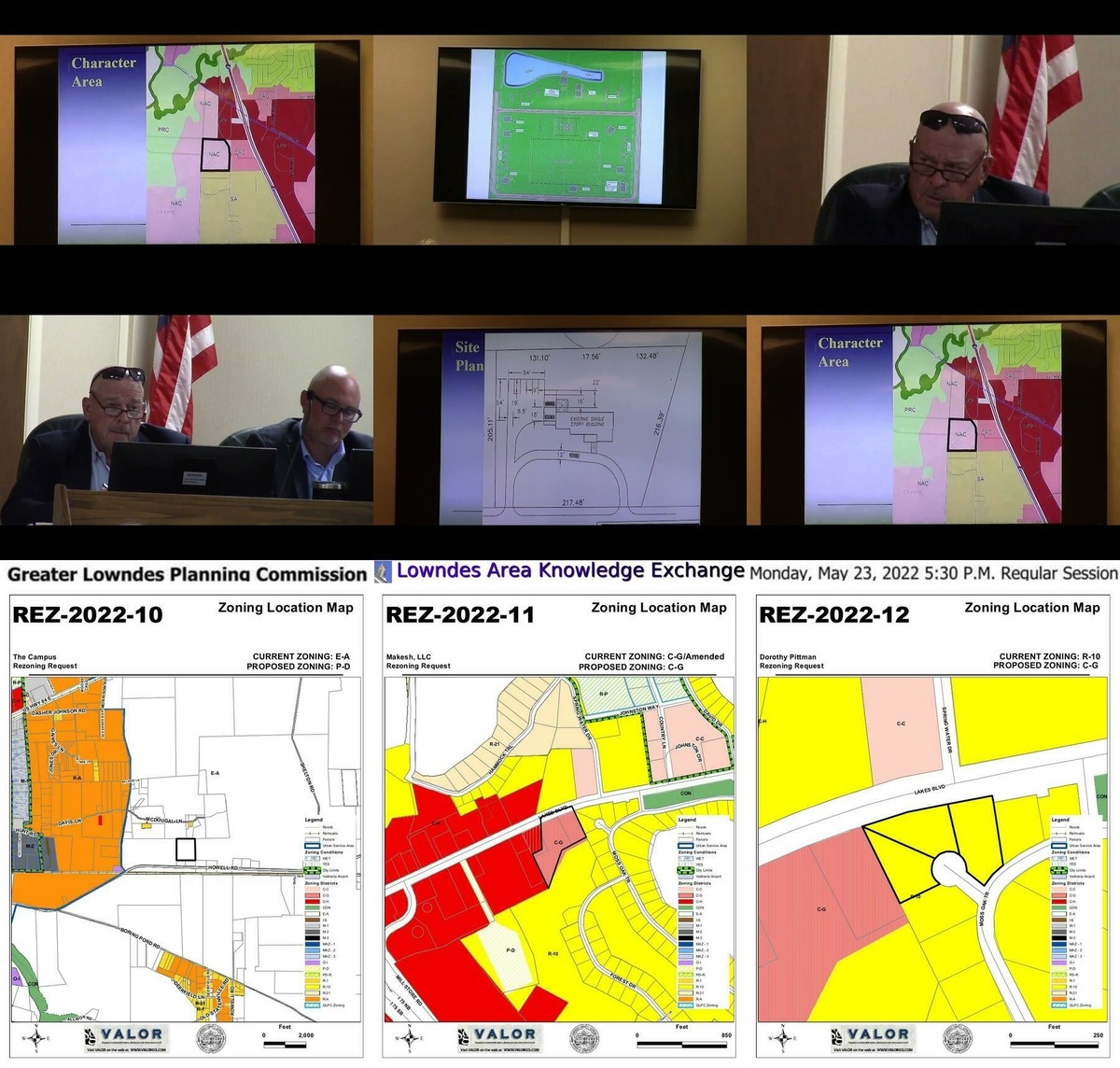 Flannigan, Campus, Makesh, Pittman
One county and one city case were on James Road. The county case got a unanimous recommendation to deny, moved by famously pro-development Franklin Bailey. The Commissioners really did not seem to like "speculative commercial use on the subject property."
The halfway house on Howell Road got a 7:2 recommendation to deny, moved by Commissioner Tommy Willis, saying it was also the Commissioners' responsibility to take into account the people who already live around there, many of whom showed up to object to the project.
Commissioner Steve Miller recused himself from the removal of some previous conditions from 5. REZ-2022-11 Makesh, LLC, 5366 Golf Drive, 1.07 Acres, C-G amended to C-G, which got a motion by Commissioner Ed Hightower to recommend approval, and a very split vote of 5 for, 4 against, and 1 recused.
And the fourth county case, also "speculative commercial use on the subject properties" on Frances Lake, could not be saved even by attorney Jack Langdale. On a motion by Commissioner Franklin Bailey to recommend denial, the vote was unanimous for 6. REZ-2022-12 Dorothy Pittman, Moss Oak Trail, 0198-046, 045, 044, R-10 to C-G.
The Valdosta and Hahira cases fared better. All were approved unanimously. Including the other James Road request, near GA 133.
As Gretchen noted: Close to existing services! Nearly 15 years after the James Road boondoggle some actual development. Commissioner Chip Wildes moved to recommend approval, and the vote was unanimous.
LAKE sent an open records request that Monday morning, asking for the GLPC packet before the meeting that day, noting that although the Georgia Open Records Act (GORA) allows three days to respond, the packet must already be in PDF and easy to email. As previously mentioned, Matt Martin sent the Valdosta and Hahira items within minutes.
Lowndes County did send the rest of the board packet at 3PM Monday, May 23, 2022, which was 2.5 hours before the GLPC meeting. My apologies for not noticing until now. Of course, if Lowndes County put board packets on its own website, as many counties and cities larger and smaller in Georgia and Florida have been doing for years, nobody would have to go through this process.
The County returned only the county items, this time at least with the Minutes of the previous meeting. These are now on the LAKE website.
According to the County Clerk's office:
There is no repository for the GLPC. Each local government is the keeper of their own items. The County's items are attached.
That's curious, considering Lowndes County handles the agendas and minutes.
Below are links to each LAKE video of each agenda item with a few notes by Gretchen Quarterman, followed by a LAKE video playlist. See also the agenda, and the rest of the board packet on the WWALS website.
Here's a LAKE video playlist:

4 long Lowndes County cases + 2 long Valdosta cases @ GLPC 2022-05-23
Regular Session, Greater Lowndes Planning Commission, Valdosta, Lowndes County, Georgia, May 23, 2022.
Videos by Gretchen Quarterman for Lowndes Area Knowledge Exchange (LAKE).
-jsq
Investigative reporting costs money, for open records requests, copying, web hosting, gasoline, and cameras, and with sufficient funds we can pay students to do further research. You can donate to LAKE today!
Short Link: