An unexpected concern about limiting someone's ability to expand his business was expressed by Lame Duck Commissioner Richard Raines, the same who made the motion for the exclusive franchise for trash collection by ADS, and who apparently (in executive session so we don't know for sure) voted twice to sue local business Deep South Sanitation. They spent five or six minutes on an annexation request by Lake Park that was not on the agenda, even though they received it last week. They vote tonight at 5:30 PM, and don't forget the budget hearings continue all day today.
One road in the Nelson Hill subdivision wasn't up to snuff and will be omitted from the adoption of infrastructure; that's better than the county's previous practice for that development of staff waivers with no public hearings. Plus four rezonings, one for a former County Commissioner and another for a community well for a development. And the annual contract renewal for the MIDS on-call bus system, plus a master software service contract.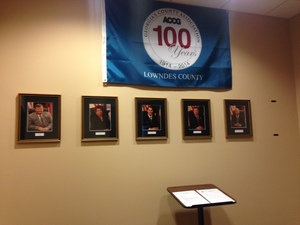 See Musical chairs in local qualifying for why John Page is no longer a Commissioner and they already removed his picture from the entryway. There's more about that in the previous post with the agenda. And here's the agenda again with links to the videos and a few notes.
LOWNDES COUNTY BOARD OF COMMISSIONERS
PROPOSED AGENDA
WORK SESSION, MONDAY, MARCH 10, 2014, 8:30 a.m.
REGULAR SESSION, TUESDAY, MARCH 11, 2014, 5:30 p.m.
327 N. Ashley Street — 2nd Floor
Here's a video playlist:

Videos
Work Session, Lowndes County Commission (LCC),
Video by Gretchen Quarterman for Lowndes Area Knowledge Exchange (LAKE),
Valdosta, Lowndes County, Georgia, 10 March 2014.
-jsq
Short Link: