The text of the Resolution Opposing the Sabal Trail Pipeline, the Commission meeting schedule, the budget calendar, and the proposed sign for the G. Robert Carter Law Enforcement Complex, plus maps for all those special tax lighting districts and details of budget and requests, all in the board packet for the 8 December 2014 Work Session and the 9 December 2014 Regular Session of the Lowndes County Commission.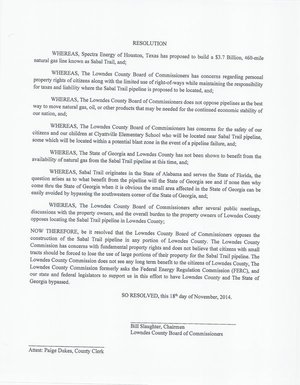 The County Clerk once again provided this packet only on paper and only in black and white. The request to the County Clerk asked for electronic copy, but once again she chose not to honor that part of the request.
There's no change in that after the Open Government Symposium of 21 November 2014. Also, this request was sent shortly after the previous Commission meeting, and with more than three weeks notice the county only made this latest packet available at 4:35 PM the Friday before the meeting, when they close at 5PM.
-jsq
Short Link: