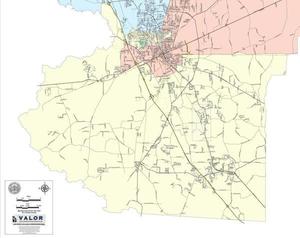 The southern District 3 for Lowndes County Commission is down to only two candidates, one Democrat and one Republican, so there will be no primary races and Tom Hochschild (D) and Mark Wisenbaker (R) will face each other in the general election in November. Retiring candidate Don Thieme (D) throws his support behind Hochschild. District 3 is mostly the south half of the county, but it also wraps around Valdosta to incorporate Remerton and VSU. See detail map or PDF of district 1,2,3 as found on lowndescounty.com.
And Crawford Powell has withdrawn from the race for House District 174, so that leaves only two candidates there, too: Jessie Smith (D) and John L. Corbett (R), with no primary races, to face each other in November.
Cody Gibson wrote for Valdosta Today 21 March 2014, SIMS WITHDRAWS, LEAVES WISENBAKER UNOPPOSED FOR DISTRICT THREE REPUBLICAN NOMINATION,
DASHER, GA — The Lowndes GOP county commission primary field for Commission District 3 was reclassified as "uncontested" Thursday morning when Thomas Sims, Jr., withdrew from the race, Sims Withdrawal Letter. This leaves Lowndes County Commission candidate Tally M. "Mark" Wisenbaker, Jr., unopposed making him the de facto Republican nominee for the Lowndes County Commission District 3 seat.
Crawford Powell wrote on his facebook page 26 March 2014,
I have decided at this time I will not be pursuing the seat for the Georgia House of Representatives District 174; and I will be withdrawing myself for consideration for the upcoming election.

I am truly appreciative of all those that have supported and encouraged me for this position and my prior elected and appointed positions here in Lowndes County. It has been my honor to serve my community; and I am so very proud to have had these opportunities.

I look forward to pursuing several business opportunities that have been simmering on the back burner that now seem to be moving toward the front. I think now it is best for me, and my family, to focus my energies back into growing and expanding my business endeavors; and hopefully laying the groundwork for another generation to follow.

I pray God's very best for Lowndes County and the State of Georgia.
That leaves Jessie Smith (D) and John L. Corbett (R) to face each other in November for House District 174. See Statehouse district map as found on GeorgiaInfo.
Powell had previously qualified for his incumbent seat in District 3 for Lowndes County Commission, before qualifying for Georgia House District 174. When he qualified for the House, that unqualified him for the County Commission. Qualifying is closed, so he can't run for his incumbent seat now.
Don Thieme wrote on his facebook page 27 March 2014,
I am supporting Tom Hochschild in his race for the District 3 Commissioner seat. I have a busy life right now, but I do hope to run for elected office again sometime in the future.
He linked to Cody Gibson in Valdosta Today, 27 March 2014, THIEME DROPS FROM LOWNDES COUNTY COMMISSIONER RACE, which quoted a longer statement from the retiring candidate:
I am withdrawing from the election for Lowndes County Commission, District 3 Commissioner. This will mean that Tom Hochschild, my colleague at Valdosta State University, will be running unopposed in the primary and will be the Democratic Party nominee .

I have strong opinions about many of the issues which face Lowndes County and a new vision of the future for the county. I am convinced, however, that Tom shares that vision and will articulate it well. While I was excited about my own candidacy, this is a very busy time in my personal and professional life and I am not prepared to sacrifice the time required to serve the county fully.

I fully expect that Tom Hochschild will win the coming election and reinvigorate the county commission. Lowndes County will need their hard work in coming years in order to preserve the blessings of our natural environment here, provide more opportunities for our youth and protect us in our homes.

Sincerely,

Don Thieme
-jsq
Short Link: