A couple weeks ago Lowndes County approved almost $3 million dollars in expenditures, including $110,147.78 for Commission Chambers Audio and Visual Upgrade, even though other counties and cities livestream their meetings using an iphone and facebook live.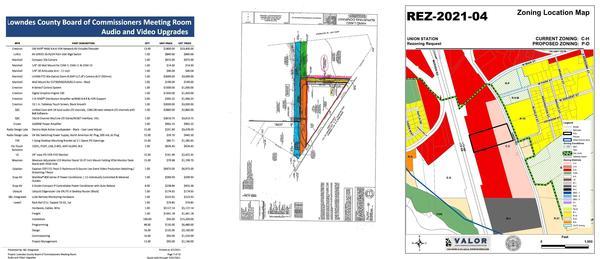 Rezoning, quit claim, audio-visual
The shooting range was actually not listed as BUDGET IMPACT, but it comes from SPLOST taxes, so I don't know how it's not part of the budget.
Not marked as costing anything was the rezoning for REZ-2021-04 Union Station on Union Road, "for a multi-family housing complex to be constructed," even though that sprawl will cost in sending fire, sheriff, and school busses out there.
Also not counted was Acceptance of Infrastructure for Creekside West Phase 6 & 7 for which "All roads will remain private. Lots will be served by Lowndes County water and sewer." So if a water or sewer line breaks, the county will have to pay to fix it. And see above about sprawl.
Here is the agenda. The entire board packet is on the LAKE website, received in response to a LAKE open records request.
http://www.l-a-k-e.org/govt/loco/2021-04-21–lcc-packet Continue reading →