The Commissioners unanimously denied the rezoning for the subdivision on Miller Bridge Road. Applicants spoke a minute over their time, yet did not present the slides they said the previous morning they were going to present; we include scans of those slides here for historical reference, for when the next subdivision like this comes up, next week or next year.
Commissioners unanimously approved the other two rezonings.
They also unanimously approved 6.a. Transportation Investment Act (TIA) Local Project – Coleman Road NW and 6.b. Transportation Investment Act (TIA) Local Project Kinderlou-Clyattville Rd. Road building and improvement projects attract subdivisions. But the opponents to the Miller Bridge Road subdivision had already left after that one item. Chairman Bill Slaughter mentioned that the crowd was gone in 6.c. Internal Network Firewalls.
Below are links to each LAKE video of each agenda item, with a few notes, followed by a LAKE video playlist. See also the LAKE videos of the previous morning's Work Session, the agenda and board packet and the LAKE videos of the preceding Planning Commission meeting, as well as Secrecy of Lowndes County Commission and Staff.
Here's a LAKE video playlist:

Unanimously voted down: Miller Bridge Road subdivision @ LCC 2022-02-08
Lowndes County Commission Regular Session, Valdosta, Lowndes County, Georgia.
Videos by Gretchen Quarterman for Lowndes Area Knowledge Exchange (LAKE),
How did we get them? The County Manager handed them to LAKE's Gretchen Quarterman at the previous morning's Work Session.
Images below (apologies for the accidental cropping of the right side), and the whole thing as PDF.
The developer's last point in their Justification for Zoning Request does identify a widespread problem:
7. Almost every subdivision built in Lowndes County is adjacent to some form of agriculture or timber production
However, there is no need to make it worse.
Another point in that same slide is plain wrong:
5. There will be minimal impact to County facilities or services, while increasing the taxes of the county approximately $70k per year
The Local Government Fiscal Impacts of Land Use in Lowndes County: Revenue and Expenditure Streams by Land Use Category, Jeffrey H. Dorfman, Ph.D., Dorfman Consulting, December 2007.
As Dr. Dorfman summarized in a different presentation,
Local governments must ensure balanced growth, as
sprawling residential growth is a certain ticket to fiscal ruin*
* Or at least big tax increases.
It's interesting that the developers put Groundwater Recharge Area first in their OPPOSITION POINTS ADDRESSED:
Groundwater Recharge Area:

Lowndes County adheres to Local and State standards when in the Groundwater Recharge Area
Notable Developments in Recharge Area in Lowndes County)

Landfill
Kinderlou Forest and Foxborough Subdivisions
Valdosta Regional Airport
Moody Airforce Base
City of Dasher
City of Lake Park and surrounding area
Lake Park Industrial Park
While probably all these points are true (I haven't checked each location), most of them precede current concerns about groundwater recharge, and there is no need to make the problem worse.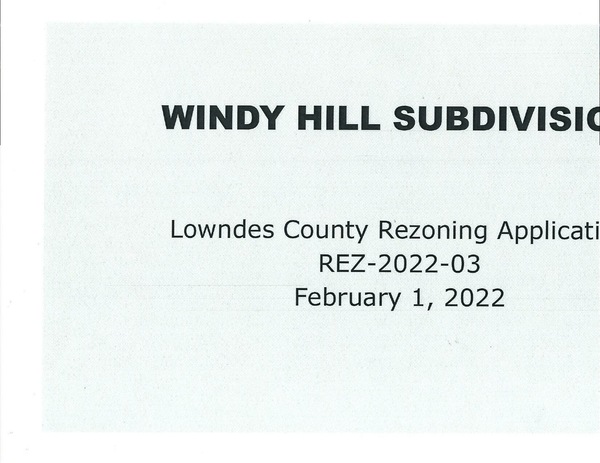 WINDY HILL SUBDIVISION, Lowndes County Rezoning Application, REZ-2022-03
---
-jsq
Investigative reporting costs money, for open records requests, copying, web hosting, gasoline, and cameras, and with sufficient funds we can pay students to do further research. You can donate to LAKE today!