Update 2022-02-06: Board's Pleasure should be Deny: Miller Bridge Road rezoning @ LCC 2022-02-07.
Everything else sailed through, but the Miller Bridge Road rezoning took half an hour.
Nick Clark from Quitman spoke for the rezoning. As Brad Folsom remarked on behalf of the opponents, the only significant difference between this and the previous request is the lot size, with the newly requested R-A zoning for 6. REZ-2022-03 Windy Hill Subdivision 7532 Miller Bridge Rd., E-A to R-A.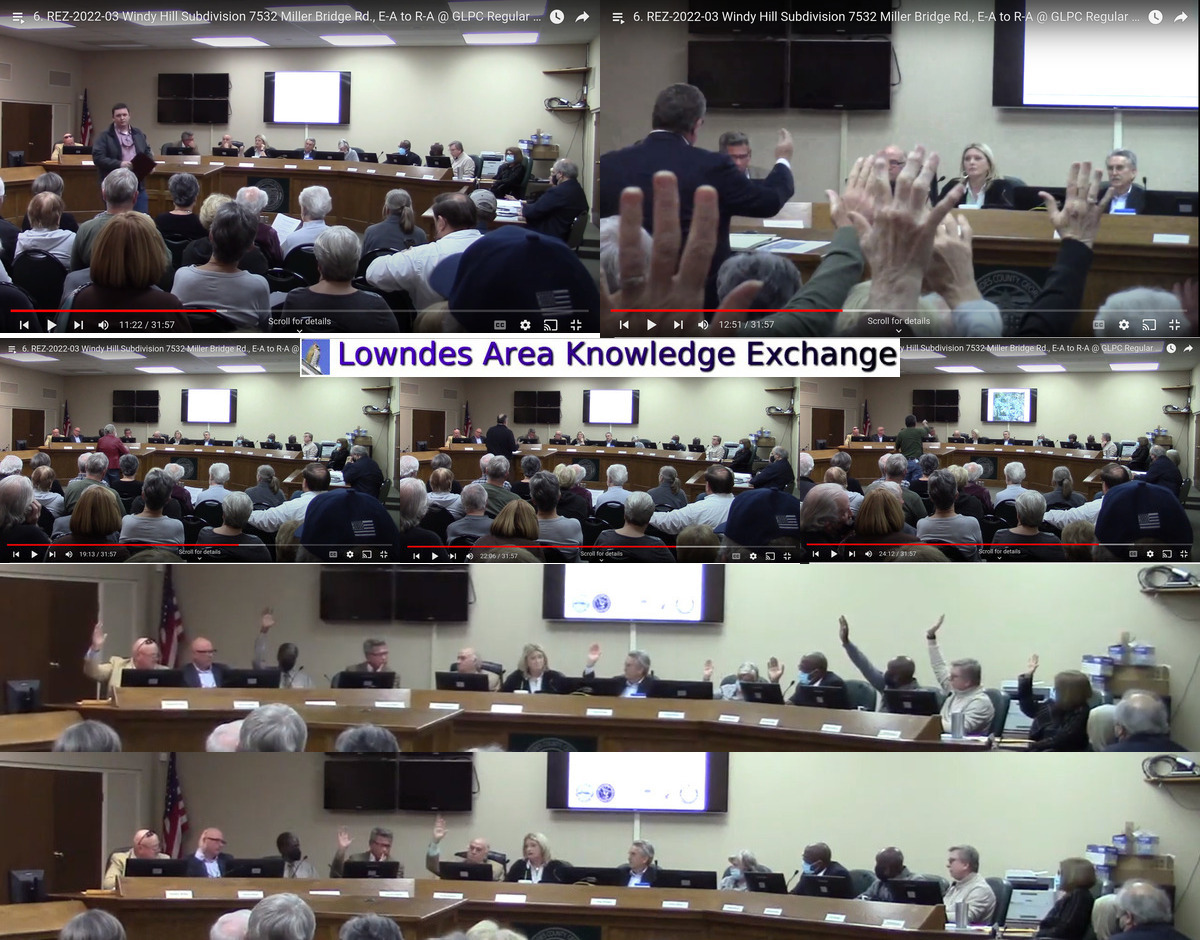 6. REZ-2022-03 Windy Hill Subdivision, 7532 Miller Bridge Rd., 0010 022, ~34 ac., E-A to R-A.
Some new arguments were heard against. Gretchen Quarterman said the taxpayers don't need any more community wells that the county has to assume and pay for if there are problems with it. Chase Gregory said the current zoning is working well. People do buy larger size parcels (4-80 acres); he gave several examples.
Tommy Kenny, spoke against as immediate neighbor to north and active local farmer.
The Planning Commissioners voted to recommend denial, 8 for, and 3 against.
The Lowndes County Commission decides next Tuesday at 5:30 PM.
Below are links to each LAKE video of each agenda item, with some notes, followed by a LAKE video playlist. See also the agenda, the Lowndes County board packet items, returned late by Lowndes County in response to a LAKE open records request, the Dasher packet item, returned in less than ten minutes by SGRC.
Here's a LAKE video playlist:

Recommend deny 8:3, Miller Bridge Road Subdivision @ GLPC 2022-01-31
Greater Lowndes Planning Comission Regular Session, Valdosta, Lowndes County, Georgia.
Videos by Gretchen Quarterman for Lowndes Area Knowledge Exchange (LAKE).
-jsq
Investigative reporting costs money, for open records requests, copying, web hosting, gasoline, and cameras, and with sufficient funds we can pay students to do further research. You can donate to LAKE today!
Short Link: