Watch out Dougherty, Mitchell, and Thomas Counties Georgia, and Jefferson, Taylor, Lafayette, Suwannee, and Columbia Counties, Florida, and the Flint, Ochlockonee, Aucilla, Ecofina, Suwannee, and Santa Fe Rivers: Alternative 3 is for you! County Commissions and city councils in the county seats of Camilla, Thomasville, Monticello, Perry, Mayo, Live Oak, and Lake City may want to take action like Jefferson County already did to stop water bottling, as may Alachua, Gainesville, Ocala, Wildwood, The Villages, and Ferndale in Alachua, Marion, Sumter, and Lake Counties, Florida.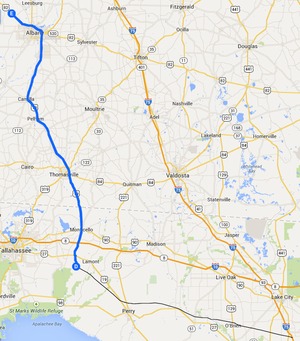 Alternative 3 in FERC's recent instructions for Sabal Trail to "include analyses" begins like Alternative 2 near Armena, GA and goes through Albany, then veers due south.
Alternative 3 beginning at approximately MP 141 (near Albany, Georgia) and following Highway 82 to Highway 19 (Slappy Boulevard) in Albany, Georgia; then following Highway 19 through Albany, Camilla, and Thomasville, Georgia to the FGT pipeline corridor south of Capps, Florida; then following the FGT pipeline corridor to I-75 and the Alternate 1 and 2 routes to the proposed endpoint.
Here's a very rough map of the whole route of Alternative 3, including the FGT pipeline part: Continue reading →