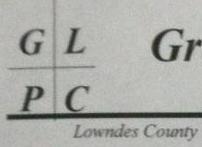 The Greater Lowndes Planning Commission meets tonight at 5:30PM, but there's no agenda posted anywhere online. At the same meeting at which he asserted "we have broadband", and "transparency is not a problem" County Chairman Bill Slaughter said the county doesn't publish agendas or minutes for the Planning Commission because of "the expense".
"the expense"
v.
"When officials act like
they have something to hide,
they often do"
I suppose I don't know much about this Internet stuff, so maybe somebody can explain it to me: what's the big expense in publishing the GLPC agendas and minutes the same way the county publishes its own agendas and minutes? Yet if you search for the Planning Commission on the county's website, all you find is its name in a list of Boards, Agencies & Commissions; tonight's meeting is not even listed in the county's online calendar.
For that matter, what would be the big expense in posting the entire agenda packets, like for example Continue reading →