Watch out Dougherty, Mitchell, and Thomas Counties Georgia, and Jefferson, Taylor, Lafayette, Suwannee, and Columbia Counties, Florida, and the Flint, Ochlockonee, Aucilla, Ecofina, Suwannee, and Santa Fe Rivers: Alternative 3 is for you! County Commissions and city councils in the county seats of Camilla, Thomasville, Monticello, Perry, Mayo, Live Oak, and Lake City may want to take action like Jefferson County already did to stop water bottling, as may Alachua, Gainesville, Ocala, Wildwood, The Villages, and Ferndale in Alachua, Marion, Sumter, and Lake Counties, Florida.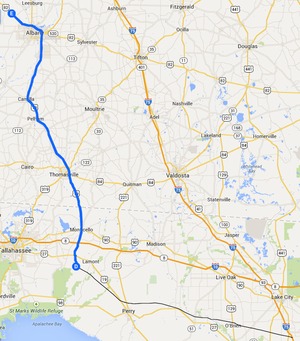 Alternative 3 in FERC's recent instructions for Sabal Trail to "include analyses" begins like Alternative 2 near Armena, GA and goes through Albany, then veers due south.
Alternative 3 beginning at approximately MP 141 (near Albany, Georgia) and following Highway 82 to Highway 19 (Slappy Boulevard) in Albany, Georgia; then following Highway 19 through Albany, Camilla, and Thomasville, Georgia to the FGT pipeline corridor south of Capps, Florida; then following the FGT pipeline corridor to I-75 and the Alternate 1 and 2 routes to the proposed endpoint.
Here's a very rough map of the whole route of Alternative 3, including the FGT pipeline part: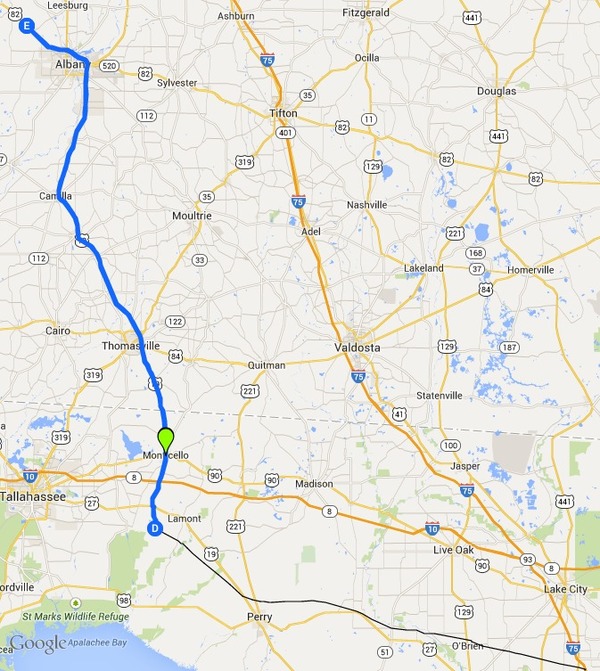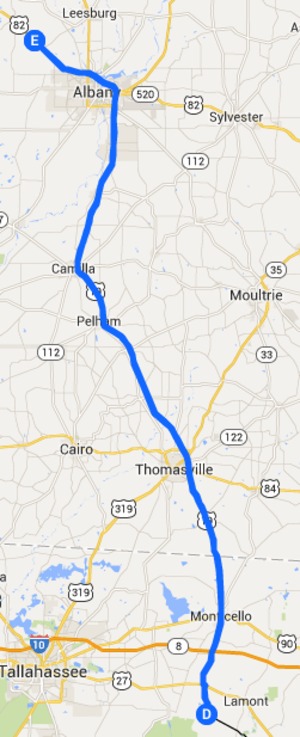 The north-south part of the route was pretty easy to follow from Mile Point 141 as in Alternative 2 to Capps, Florida along the highways FERC specified, through Albany, Camilla, Pelham, Thomasville, and Monticello, and crossing the Fint and Ochlockonee Rivers.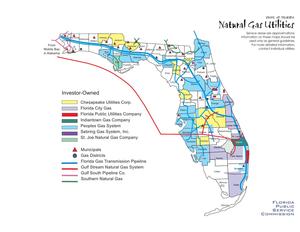 The Florida Gas Transmission (FGT) route was a bit harder, because FGT's maps are very vague. and the National Pipeline Mapper shows you only county by county and not much local detail to compare to. The Florida Public Service Commission has a somewhat informative map.
This deliberate vagueness is apparently because natural gas pipelines are national security assets. Terrorism, you know. So remind me, why would we want to build more of these really obvious enemy targets?
You can compare an FGT map to a map of Florida counties:
And if you turn on satellite view in google maps and zoom in, you can see the FGT pipelne as its right of way gouges a wide swath through every forest in its path, just like Sabal Trail wants to do. So I used that to draw this rough map of FGT from south of Capps to I-75, passing through Perry, Florida, and parts of Jefferson, Taylor, Lafayette, Suwannee, and Columbia Counties, Florida. Plus it would cross the Aucilla, Ecofina, and Suwannee Rivers, and after it joins Alternative 1, it still would cross the Santa Fe River.
Jefferson County is the one that already passed a land-use ordinance to prevent Nestlé or any other water bottling company from sucking up its local waters. Well, Jefferson County, Sabal Trail wants to cross your Aucilla River. Plus pressure testing that pipeline would require a lot of water that would also have to go back contaminated into local watersheds, as the EPA reminded FERC back in April. Here's an action letter suggesting that and other possibilities for county commissions and city councils, not to mention state and federal agencies.
What say we call off the pipeline and deploy clean, safe, affordable solar power instead, for jobs, power, and lower electric bills right here where we need them? After all, Sabal Trail's own figures show it would take half the land of that pipeline to produce just as much solar power.
-jsq
Short Link: