Here is the board packet for the 11 November 2014 Regular Session and 10 November 2014 Work Session of the Lowndes County Commission.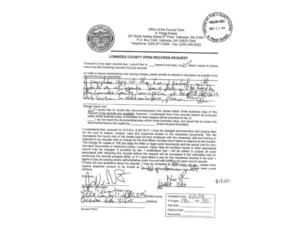 Although the County Clerk once again provided this packet only on paper and only in black and white, we got via CD-ROM color maps for REZ-2014-17 Grand Bay Estates and REZ-2014-18 White from County Planner Jason Davenport in response to a separate Open Records Request. The request to the County Clerk also asked for electronic copy, but once again she chose not to honor that part of the request.
But who can say? Perhaps things will be different after the Open Government Symposium this Friday, 21 November 2014.
Meanwhile, I have already filed an Open Records Request for the board packet for the next County Commission meeting, which is in December.
-jsq