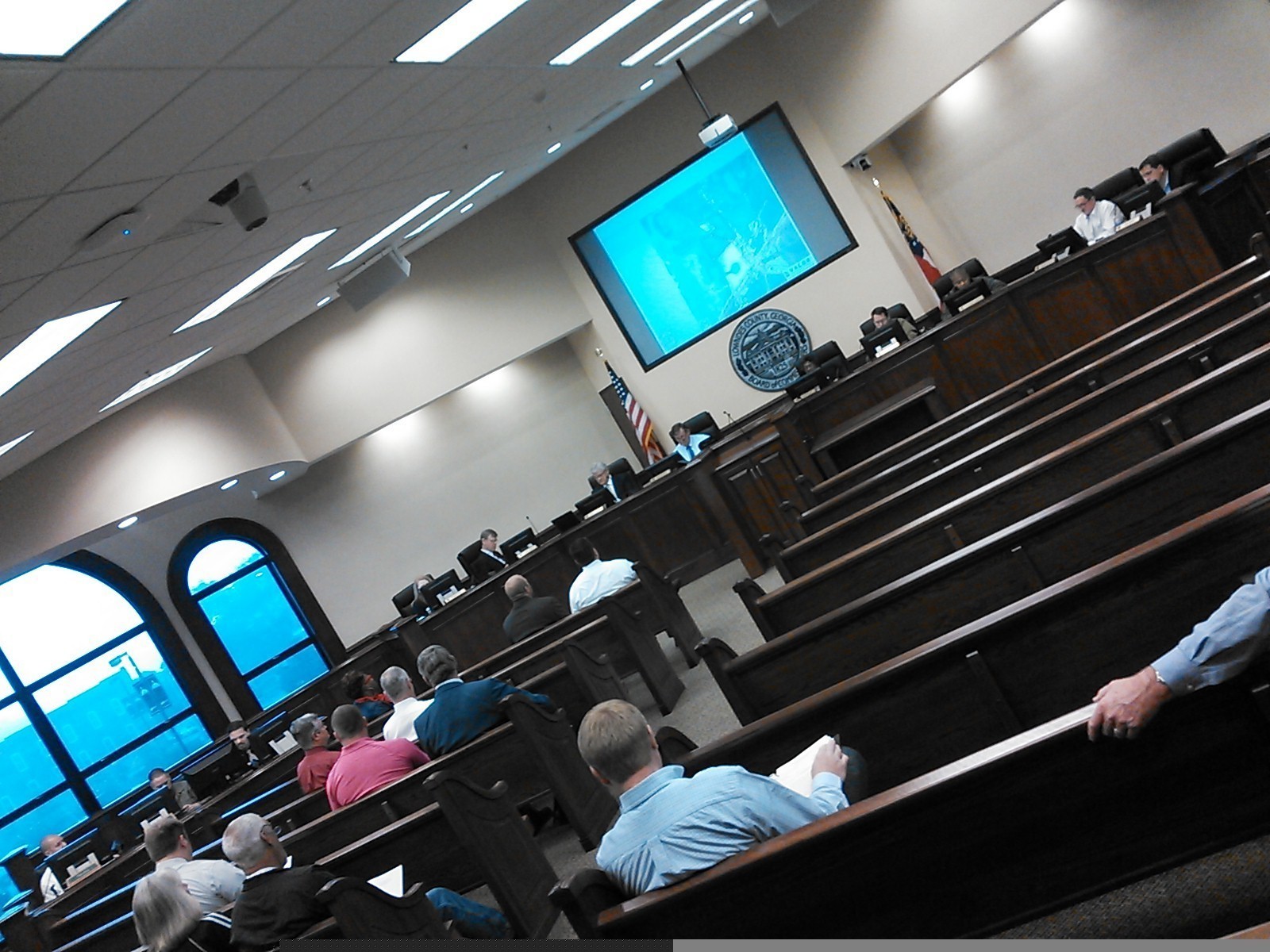 They vote tonight on what they discussed yesterday morning in these videos. A subdivision rezoning gets no objections while a rezoning for agricultural use gets massive objections. Also few if any of those objectors have said anything about the Sabal Trail pipeline. Do priorities around here seem odd?
The emergency security monitor replacement is, you guessed it, a no-bid contract with the same company that originally installed them. Which fits with the no-bid Alapaha Water Plant Expansion, back this time for property acquisition after twice failing to get a setback variance at ZBOA.
The state changed the qualifications for the South Georgia Community Service Board, so they have to appoint somebody new (Commissioner Marshall "volunteered"), and three seats are expiring or vacant on the Development Authority, so they are appointing three replacements. No not that other Development Authority formerly known as the Industrial Authority; quite a bit of discussion about the difference. The numerous special tax lighting districts are all different, ranging from no-brainers to table it. And there's a deadline of November 16th, so they need to vote on them today if they're going to take effect this year.
All that and health premiums, an upgrade to the jail overseer, several state-mandated plans, and some replacements of the MIDS bus system fleet.
Here's the agenda, and below are the videos of events as they transpired, followed by a video playlist.
1. Call to Order 4. Minutes for Approval 6. Appointments

6.a. South Georgia Community Service Board

County Manager Joe Pritchard said Senate Bill 349 recently adopted by the Georgia legislature changed the composition of community service boards.

Apr/16/2014 – Effective Date
Apr/16/2014 – Act 538
Apr/16/2014 – Senate Date Signed by Governor
Mar/31/2014 – Senate Sent to Governor
Mar/10/2014 – House Passed/Adopted

He said these changes make previously-appointed member Sheila Huntley no longer eligible to serve. He said Commissioner Demarcus Marshall had expressed interest in serving on that board. Commissioner Marshall's expression seemed to indicatete otherwise.

6.b. Development Authority of Lowndes County (3)

County Manager said three terms had expired, those of Jerome Waters, Commissioner Crawford Powell, and another position was vacant. "It has been recommended that" those two names be reappointed and Commissioner Clay Griner be asked to fill the vacant position.

Commissioner Demarcus Marshall wanted to know what was the difference between this Development Authority and the Industrial Authority that recently renamed itself to be a Development Authority. County Manager and Commissioner Crawford Powell attempted to explain. Basically this Development Authority meets occasionally and acts as a conduit for bond financing, while the Industrial Authority is authorized by the state to do many other things. Here's the Industrial Authority's Charter.

7.a. REZ-2014-17 Grand Bay Estates

Video. One more condition to check, said County Planner Jason Davenport. See also the LAKE video of this item at the 27 October 2014 Planning Commission.

7.b. REZ-2014-18 White, Whitewater Rd and Bent Tree Dr

Video. Cattle and crops proposed for this rezoning to agricultural, said County Planner, with "a healthy amount of public input" including "a healthy amount of work done by the opposition" involving canvassing the neighborhood, 30 calls to the Planner, and a petition with dozens of names. There's also at least one letter of support from Judith Clark, and another letter of support from some neighbors, along with letters from the opposition. Plus this interesting map of green dots in support and red dots in opposition. Maybe we'll get a better version some time today in response to LAKE's open records request of yesterday.

Commissioner Richard Raines wanted to know more about the property owners directly bordering the subject property, only one of whom had written a letter. County Planner had no further information than that they were on the petition.

Commissioner Demarcus Marshall said he thought there were horses on one of the neighbor's property. Planner didn't know.

Marshall said the Commission voted 6 to 0 last time when this property was rezoned for a previous owner. Planner said concerns were about surrounding residences and spot zoning.

See also the LAKE video of this item at the 27 October 2014 Planning Commission.

7.c. Special Tax Lighting District — Grove Pointe Phase IV

Video. Chairman Bill Slaughter wanted to know if some of these Special Tax Lighting Districts could be lumped together for a vote. Answer: no, they're all different.

7.d. Special Tax Lighting District—Walker Run Second Phase

Video. There's a condition for not being liable for payment or activation before November 16th so the county isn't stuck paying for the lights for a year before tax money comes in, County Planner Jason Davenport revealed in response to a question from Commissioner Demarcus Marshall.

7.e. Special Tax Lighti ng District—Frank's Creek Landing

Video. This one is driven by the residents and should be ready.

7.f. Special Tax Lighting Distri ct—Kinderlou Forest Phase IV & V

Video. Planner tried to charge for the golf course, as in $10, to $30,000 for activation, and check hasn't been seen yet; also two conditions.

7.g. Special Tax Lighti ng District—Nottinghill Subdivision

Video. A new but standard subdivision.

7.h. Special Tax Lighti ng District—Glen Laurel Phase III

Video. "They just do not have their final plat signed and approved". Planner said staff probably would ask Commission to table.

8.a. Section 125 Plan Document Renewal for 2015

Video. HR housekeeping about health premiums.

8.b. Sheriff's Office Position Reclassification

Video. Sheriff Chris Prine spoke, asking for a reclassification or upgrade of two positions, for jail, and for "narc squad", that are already in his budget, but require changing the tables in the current FY budget. These items were not a result of the Condrey & Associates review, although they were identifed prior to that and shown to Condrey.

8.c. Section 5311 Rural Transportation Program Capital Contract

Video. County Engineer Mike Fletcher said it's a contract with GDOT to purchase 1 regular shuttle van, 2 shuttle vans with lifts, two tables, and two video surveillance systems. Replacing existing vehicles among a fleet of eight. More than 20,000 trips a year. Local match $13,166.70.

Commissioner Crawford Powell wanted to know if this was budgeted. County Manager Joe Pritchard said it would have to come from contingency this time. Commissioner Richard Raines said this was the first time.

8.d. Title VI Assurances for Lowndes County (part 1)

Video. County Engineer Mike Fletcher said feds require any local government that receives federal highway funds have this document. Quite a bit of discussion between Commissioners and County Manager about what the requirements were, which could include an additional one or more positions to meet an unfunded mandate, or lose federal highway funds.

8.d. Title VI Assurances for Lowndes County (part 2)

Video. County Commissioner Richard Raines had a few words to say about unfunded mandates.

8.e. Title VI Plan for Lowndes County (part 1)

Video. County Engineer Mike Fletcher said this is the actual plan required of local governments with a population over 100,000.

8.e. Title VI Plan for Lowndes County (part 2)

Video. This is actually 8.f. part 1.

8.f. Adopt a Policy for Competitive Negotiation Qualifications

Video. The break between videos is because I plugged in the camera.

6.g. Authorization for Chairman to Release Eligible CHIP Liens

Video. County Zoning Coordinator Carmella Braswell said this was about a grant for funding for two houses, with a requirement for recording lien deeds for five years. The time has come to release the county's liens.

8.h. Property Acquisition for Alapaha Water Plant Expansion

Video. Utilities Director Mike Allen said "it has become evident" that they need to expand the property to meet setback requirements. This became evident after they applied twice to the Zoning Board of Appeals for a variance.

8.i. Replacement of Security Video Monitors

Video. Chad McCleod said "due to recent technical issues" some security monitors at the sheriff's office need replacement. They've gone back to the contractor that originally installed them for an emergency quote for replacements, which is $32,321. The problem is such a secret that he asked for Commissioners to ask him one by one if they had any questions.

9. Reports – County Manager

Video. No report.
Here's a video playlist:

Videos: 9 consideration, 6 tax lighting, 4 appointments, 2 rezonings, 1 proclamation
Work Session, Lowndes County Commission (LCC),
Video by John S. Quarterman for Lowndes Area Knowledge Exchange (LAKE),
Valdosta, Lowndes County, Georgia, 27 October 2014.
-jsq
Short Link: