Update 2022-12-20: Videos: Dollar General rezoning tabled, Troupville Nature Park land purchased @ LCC 2022-12-13.
All letters were opposed, of those sent to GLPC or LCC by December 12, 2022, about the rezoning for a Dollar General on GA 122 at Skipper Bridge Road.
Thanks to Lowndes County Planner JD Dillard for sending this correspondence on REZ-2022-20 last Monday in response to an open records request, before I mentioned it in the Lowndes County Commission meeting Tuesday.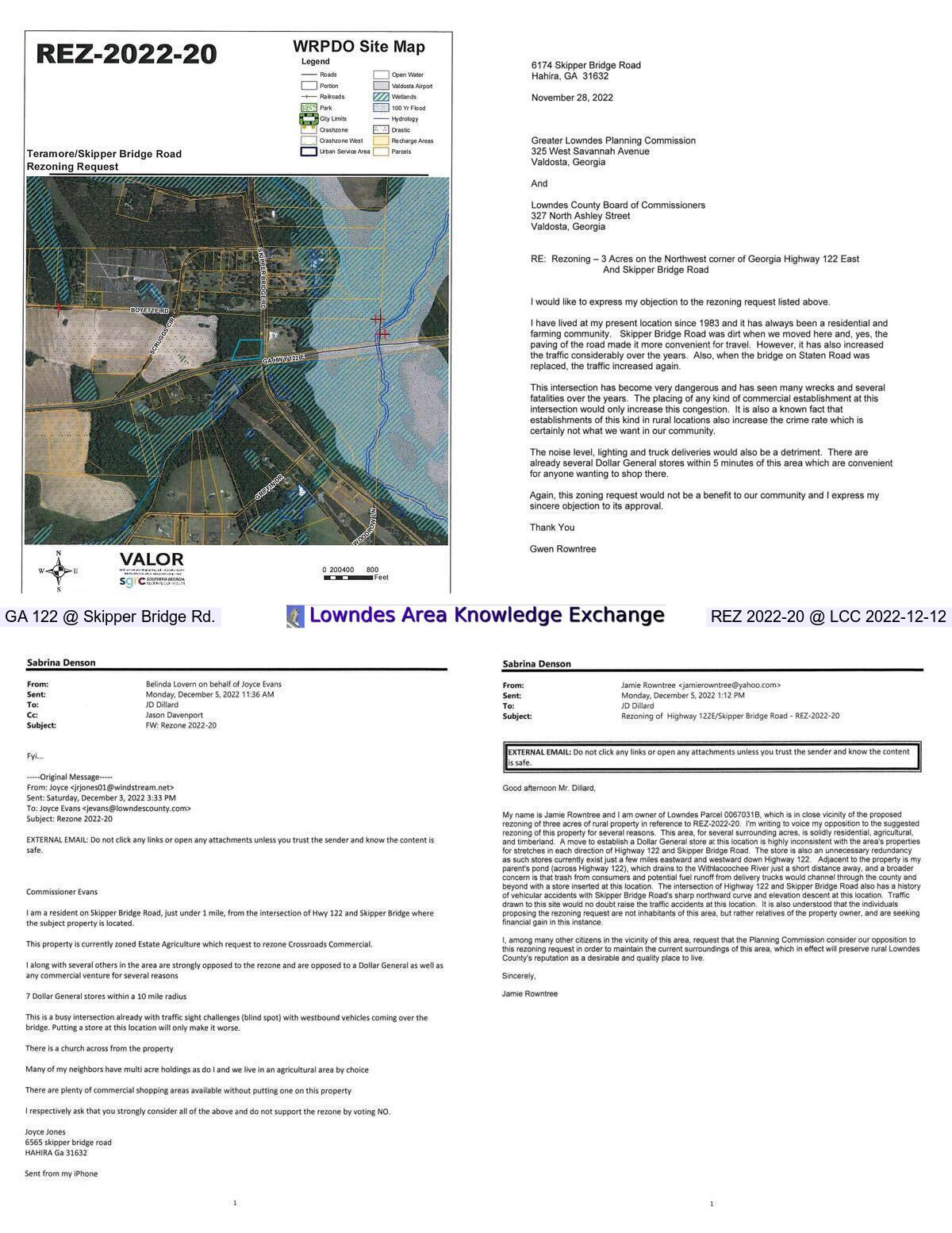 Map, Letters, REZ-2022-20, GA 122 & Skipper Bridge Road
There are letters from Joyce Jones, Jamie Rowntree, and Gwen Rowntree. Gwen Rowntree sent a letter to the Greater Lowndes Planning Commission (GLPC) and followed up with a similar letter to the Lowndes County Commission (LCC).
It appears that while there may be people who have spoken to Commissioners in support of the rezoning, as of Monday a week ago nobody had written in support. All the letters are in opposition.
As you can see, the opposition is for a wide variety of reasons, traffic, wrecks, lighting, deliveries, water flow, and most basically that such a commercial development does not belong in an agricultural and farming area.
I will send in a letter of opposition before this rezoning comes before the Lowndes County Commission again on Monday, January 23, 2023 (Work Session) for voting on Tuesday, January 24 (Regular Session).
I suggest anyone else opposed also send in a letter.
See also the LAKE videos of the LCC Work Session, the LCC agenda the LCC board packet, the LAKE videos of the GLPC meeting, an early LAKE report on the GLPC meeting, and the GLPC board packet.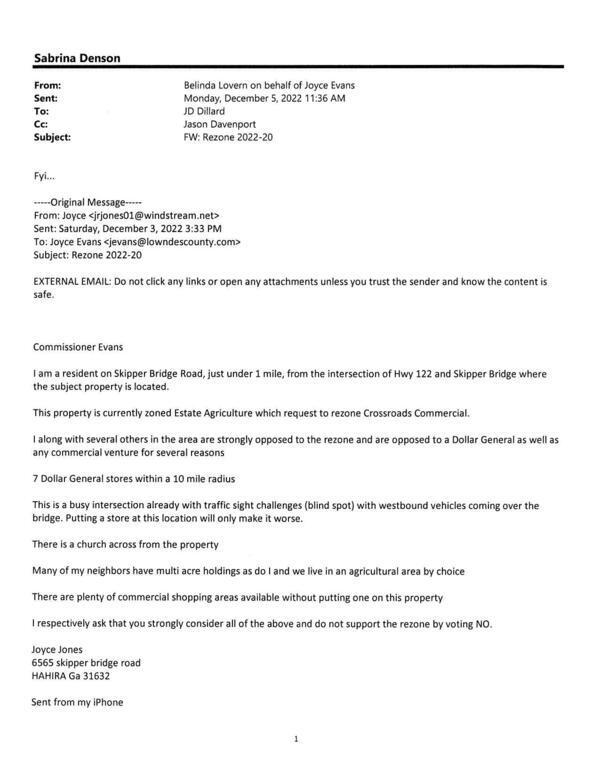 Joyce Jones to LCC Commissioner Joyce Evans
PDF
-jsq
Investigative reporting costs money, for open records requests, copying, web hosting, gasoline, and cameras, and with sufficient funds we can pay students to do further research. You can donate to LAKE today!
Short Link: