Update 2022-12-12: Videos: Dollar General rezoning legally must be tabled, Troupville land purchase is for a park @ LCC 2022-12-12.
Update 2022-12-12: Lowndes County to purchase land for Troupville Nature Park and River Camp @ LCC 2022-12-13.
Update 2022-12-10: Fixed my number dyslexia in the dates.
Lowndes County Chairman Bill Slaughter tells me the applicant for the Dollar General at GA 122 & Skipper Bridge Road (REZ-2022-20 Teramore Development) has requested tabling until a later meeting. Bill says he intends to table it until the second January 2023 meeting. So that's January 25 24, 2023. He asked me to tell people that.
If I were you, I would show up this Tuesday, December 12 13th, anyway, so they see you are watching. Also, the agenda has not yet changed, and the item has not yet been tabled.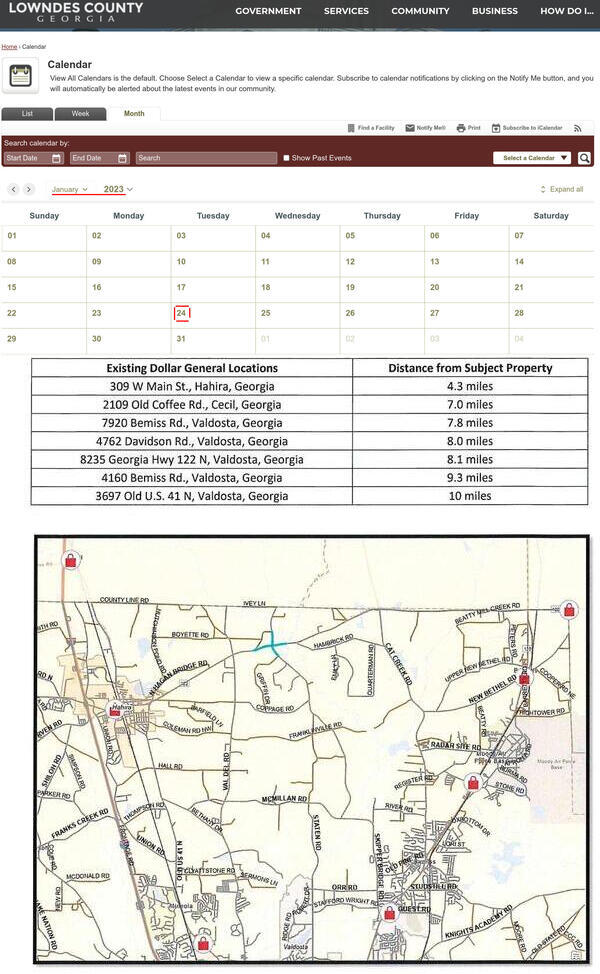 Second meeting in January 2023
In any case, keep them letters, telephone calls, and petition signatures going in. Ask them to hold the public hearing and then just vote to deny it instead of tabling it.
For anyone tuning in late, here's why: https://wwals.net/?p=60348
The board packet, received in response to a LAKE open records request, is on the LAKE website. The county did not send letters from citizens to Commissioners or staff about the Dollar General rezoning, even though those were specifically part of the request.
See also the agenda.
-jsq
Investigative reporting costs money, for open records requests, copying, web hosting, gasoline, and cameras, and with sufficient funds we can pay students to do further research. You can donate to LAKE today!
Short Link: