Update 2022-12-18: Correspondence: Proposed Rezoning on GA 122 at Skipper Bridge Road 2022-12-12.
County Manager Paige Dukes said they are legally required to table the rezoning for a Dollar General, because they were a day late on getting notices out, although she twice blamed that on the Valdosta Daily Times.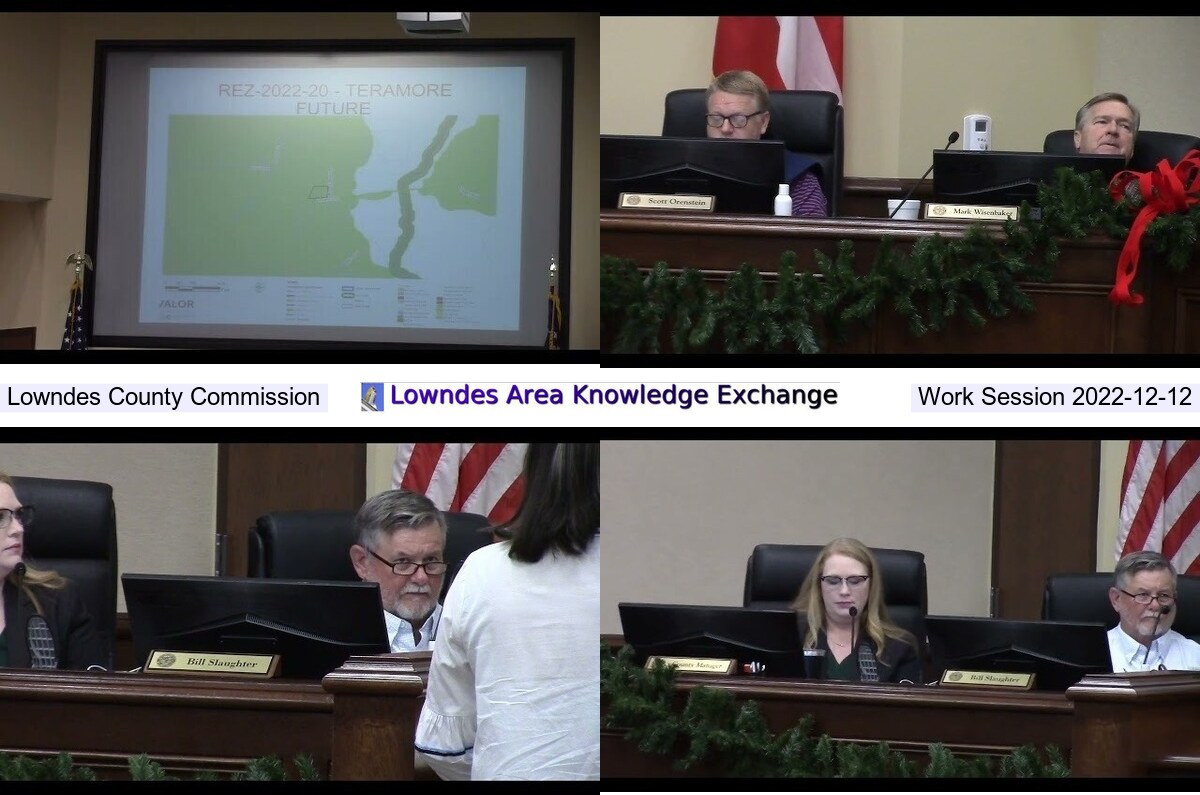 Collage @ LCC 12 December 2022
County Chairman Bill Slaughter said the applicant had requested tabling, and he recommended the second meeting in January (January 24, 2023). Commissioner Demarcus Marshall wanted to know why. The Chairman said, "It works out for two of the parties involved, the county and the developer." (Nevermind the people.) Commissioner Scottie Orenstein said "I'm not in favor of tabling something only to give the developer more time… If he has true intentions on meeting with the community and having a meeting with them, a town hall, something a little more official, then I'm OK with that. But not to just give them more time." The Chairman disagreed, "Well, I don't think time is going to resolve anything in this particular situation." Plus regarding the applicant, "We're here to give them the courtesy if they make a request through that application process."
Commissioner Mark Wisenbaker wanted clarified that the main issue was the date issue. Alleged County Attorney G. Walter Elliott reminded them they have to vote to table (the Chairman cannot just unilaterally table).
Commissioner Demarcus Marshall wanted to know if the Planning Commission knew about the timing issue. Commissioner Joyce Evans seemed to indicate they did (she was not speaking into her microphone, so I'm not sure). The County Manager said they were notified, and the date issues was "literally recognized the very next day."
County Planner JD Dillard said it's in an Agricultural Character Area, but "but CC zoning is recommended per the Comp. Plan." Nevermind the next intersection, at Cat Creek Road and GA 122, is already zoned CC, and is much farther from the Withlacoochee River.
We still don't need a Dollar General causing more traffic, pollution, trash, and as a foothold to more development. I still recommend you show up tomorrow evening to be seen. In any case, keep those letters, telephone calls, and petition signatures going in. For anyone tuning in late, here's why and how: https://wwals.net/?p=60348
On 7.a. Purchase of Between the Rivers, L.L.C. Property, Commissioner Demarcus Marshall wanted to know the timeline. County Engineering Director Chad McCleod said they would close Wednesday afternoon.
Commissioner Mark Wisenbaker wanted to know the purpose of the purchase. The Chairman said, "The plan is to develop a park, an additional area there in a park, to be utilized by citizens of this community, and really, hopefully, regionally, for kayaking, outdoor activity, and that sort of thing." Commissioner Wisenbaker said, "I just wanted it for the record." The County Manager added, "This does support the Master Plan that is currently before VLPRA related to our blueways in the community." See also Lowndes County to purchase land for Troupville Nature Park and River Camp @ LCC 2022-12-13.
There was also quite a bit of discussion about 7.b. MyGov Intergovernmental Agreement, 7.k. Paymentus Master Service Agreement (MSA), 7.e. Approval of Solicitor General's VAWA Continuation Grant Application, 7.f. Storage Area Network Replacement, and a few others.
They want 7.i. Consideration of TSPLOST II Resolution.
The whole thing took 35 minutes, which is very long for them, and they all had speaking parts, even more unusual.
Below are links to each LAKE video of each agenda item, with some notes by Gretchen Quarterman, followed by a LAKE video playlist. See also the agenda and the board packet, plus Lowndes County to purchase land for Troupville Nature Park and River Camp @ LCC 2022-12-13.
Here's a LAKE video playlist:

Videos: Dollar General rezoning legally must be tabled, Troupville land purchase is for a park @ LCC 2022-12-12
Work Session, Lowndes County Commission, Valdosta, Lowndes County, Georgia, December 12, 2022.
Videos by Gretchen Quarterman for Lowndes Area Knowledge Exchange (LAKE).
-jsq
Investigative reporting costs money, for open records requests, copying, web hosting, gasoline, and cameras, and with sufficient funds we can pay students to do further research. You can donate to LAKE today!
Short Link: