Update 2023-01-22: Videos: Three appointments, lease, ULDC, roads, grant, insurance @ LCC Work 2023-01-09.
Both Work Session and Regular Session are Monday, January 9, 2023, for the Lowndes County Commission. Both will probably be brief, because it's a short agenda of mostly routine items.
The rezoning at Skipper Bridge Road and GA 122 for a Dollar General is NOT on this agenda. However, those interested may want to show up and be seen by the Commissioners, to remind them that people care and will be there on January 24th at the Public Hearing.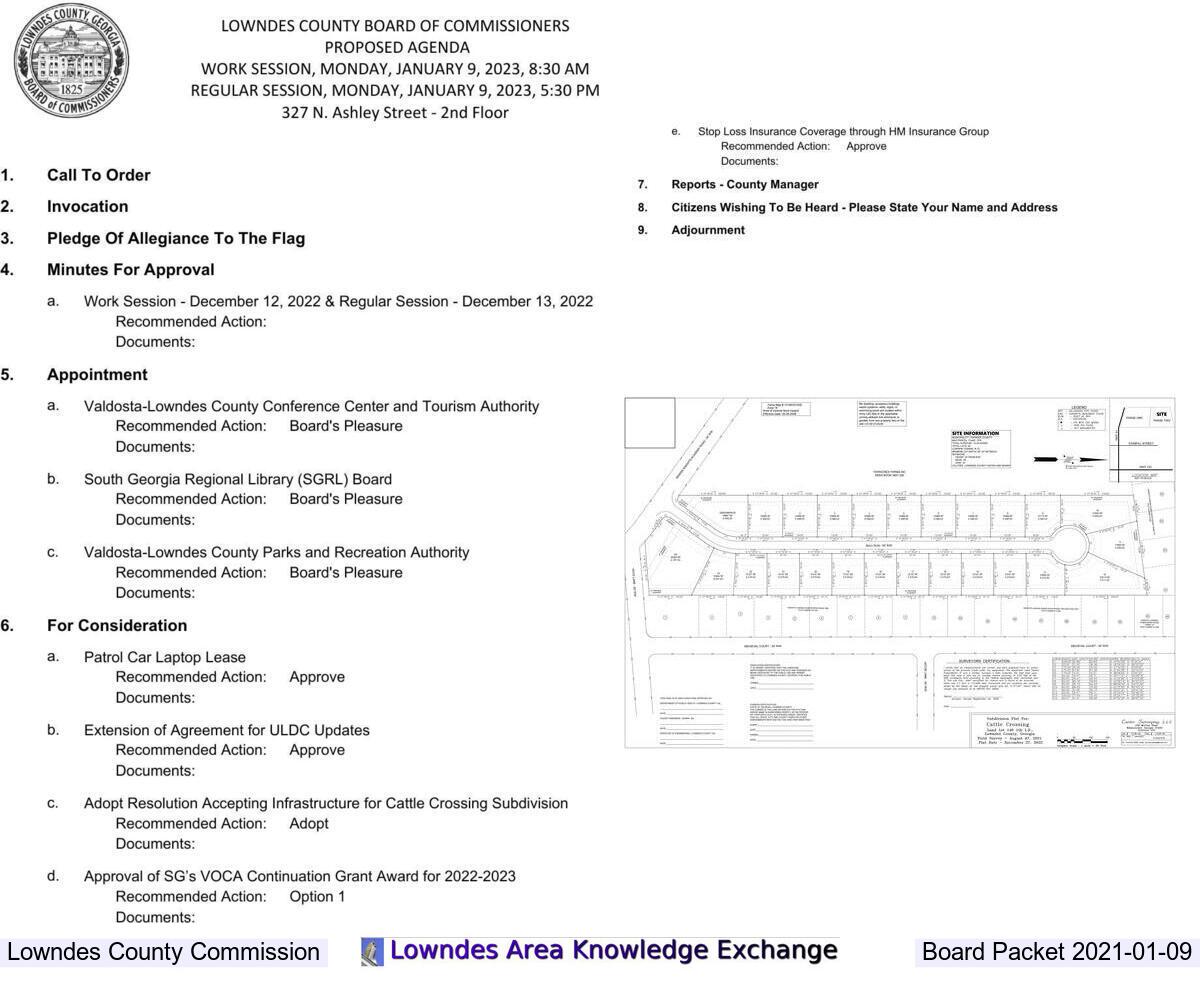 Agenda, Cattle Crossing Subdivision infrastructure @ LCC 2023-01-09
They pretend as always that taking over more subdivision streets and water and sewer lines will not cost the county taxpayers anything.
The dollar items listed in the packet are small.
They will reappoint Jonathan Vigue to the Valdosta-Lowndes County Convention Center and Tourism Authority (VLCCCTA) board.
David Westberry has also applied to the VLCCCTA board and to the South Georgia Regional Library (SGRL) board. The opening on the latter is because Steve Boatner resigned. The SGRL board submitted Darlene Ridley for consideration, so that's probably who they will appoint.
Dan Deaver does not want to be reappointed to the Valdosta-Lowndes Parks and Recreational Authority (VLPRA) board. David Westberry has applied, and he may get on that one.
Here is the agenda.
The board packet, received in response to a LAKE open records request, is on the LAKE website.
LOWNDES COUNTY BOARD OF COMMISSIONERS
PROPOSED AGENDA
WORK SESSION, MONDAY, JANUARY 9, 2023, 8:30 a.m.
REGULAR SESSION, MONDAY JANUARY 9, 2023, 5:30 p.m.
327 N. Ashley Street – 2nd Floor
-jsq
Investigative reporting costs money, for open records requests, copying, web hosting, gasoline, and cameras, and with sufficient funds we can pay students to do further research. You can donate to LAKE today!
Short Link: