The board packet for the Tuesday Lowndes County Commission Regular Session says, on page 65, which is the agenda sheet for agenda item 6.a. Adoption of Millage Rate:
HISTORY, FACTS AND ISSUES: The Board of Commissioners is required to set the county-wide millage rate for 2020. A public hearing was held prior to this adoption as required. The county-wide millage should be set at 10.851 mills with the County receiving 8.601 mills, the Industrial Authority receiving 1.00 mill and the Parks and Recreation Authority receiving 1.25 mills. This represents a reduction of 0.087 mills.
I wondered: when was this public hearing?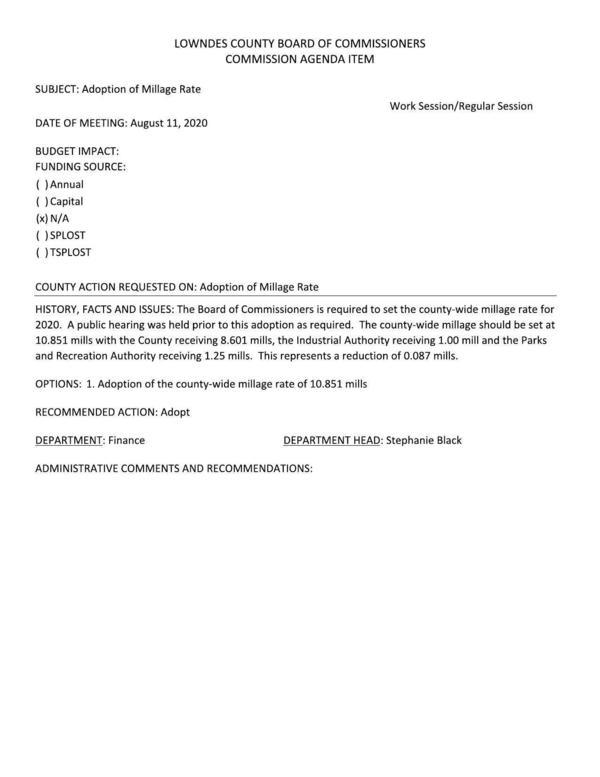 10.851 mills, 8.601 County, 1.00 VLDA, 1.25 VLPRA. reduction of 0.087 mills.
According to the county's online calendar, it hasn't hapened yet, because it's 5:00 PM that same Tuesday.
So if you're going to the Regular Session, might as well show up half an hour earlier for the Millage Rate Meeting. Chances are, you'll be the only member of the public there.
-jsq
Investigative reporting costs money, for open records requests, copying, web hosting, gasoline, and cameras, and with sufficient funds we can pay students to do further research. You can donate to LAKE today!