They approved all the utilities items, radios, building, and manholes, at the Lowndes County Commission Regular Session of Tuesday, August 23, 2022.
They adopted the FY2022 millage rate (slightly lowered), including the fire district millage rate (same as last year), and they approved a software module for the Tax Assessors to use to facilitate citizen appeals to appraisals.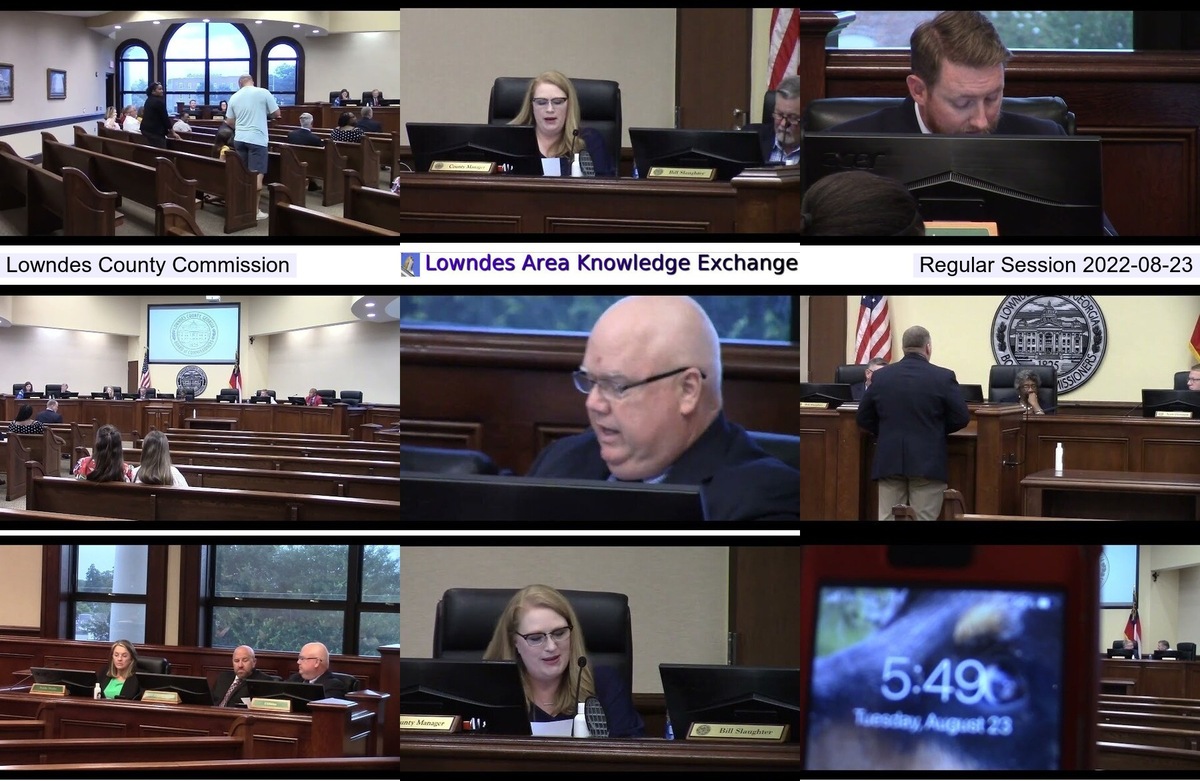 Collage, Lowndes County Commission Regular Session 2022-08-23
They reappointed John "Mac" McCall to the Valdosta Lowndes Zoning Board of Appeals (ZBOA), they approved a Juvenile Justice grant, and they approved a subdivision decorative lighting district.
Commissioner Scottie Orenstein is also Chair of the Georgia Environmental Finance Authority (GEFA).
County Manager Paige Dukes said the Commission's year-end retreat would be Friday, November 18, 2022, and they would hold it in their offices (not on Jekyll Island this time). The Lake Alapaha drinking water treatment plant is still not finished, and there are ARPA funds available for that and other water projects. Utilities Director Steve Stalvey reported on a sinkhole problem near a lift station that they were dealing with. It was apparently caused by a lightning strike, for which they are seeking insurance reimbursement.
The whole thing took nineteen minutes.
Below are links to each LAKE video of each agenda item, followed by a LAKE video playlist. See also the agenda, the board packet (received in response to a LAKE open records request), the LAKE videos of the previous morning's Work Session, and the LAKE video of the Millage Public Hearing just before the Regular Session.
Here's a LAKE video playlist:

Millage, tax assessment, 3 utilities, ZBOA, Juvenile Justice @ LCC 2022-08-23
Regular Session, Lowndes County Commission, Valdosta, Lowndes County, Georgia, August 23, 2022.
Videos by Gretchen Quarterman for Lowndes Area Knowledge Exchange (LAKE),
-jsq
Investigative reporting costs money, for open records requests, copying, web hosting, gasoline, and cameras, and with sufficient funds we can pay students to do further research. You can donate to LAKE today!
Short Link: