Maybe it's time to go to one of these. It's tonight at 5:30 PM.
Bimbo QSR "will produce several different types of hamburgers, hot dogs, and sandwich buns for quick-service restaurants" according to WALB, in a 100,000 square foot building on South Saint Augustine Road for a claimed investment of $25 million.
Virtual World Technologies does managed technology services, although curiously it doesn't seem to update its social media.
Ace Electric has been around here a long time. Evidently they're doing something new.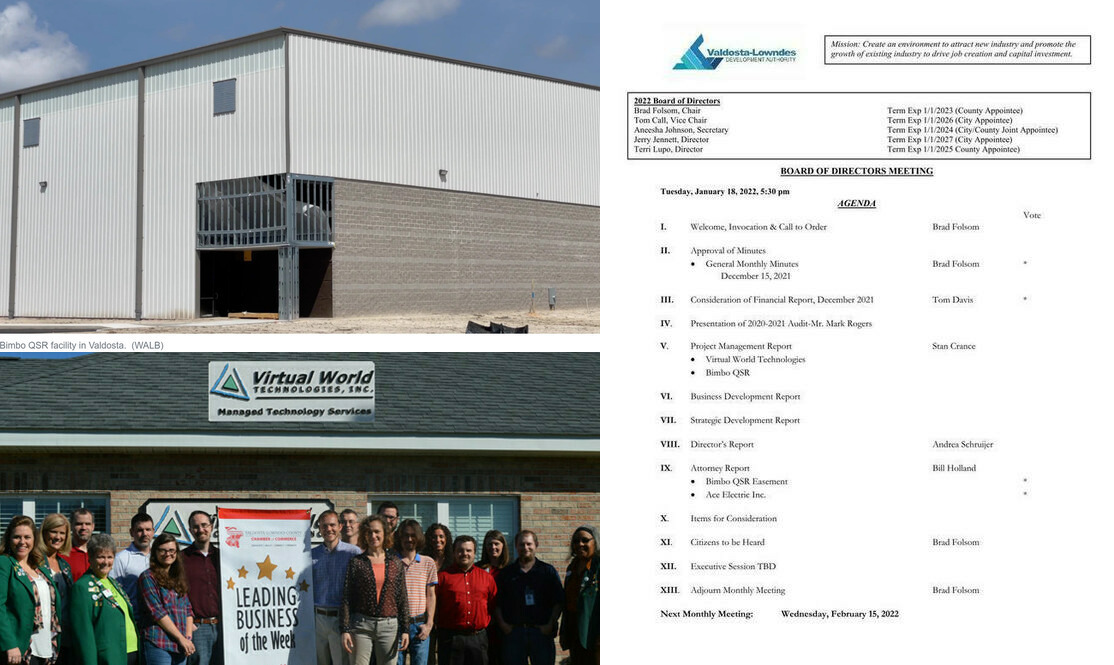 Bimbo QSR and Virtual World, VLCIA Agenda
Here is the agenda.
Mission: Create an environment to attract new industry and promote the growth of existing industry to drive job creation and capital investment.

Valdosta-Lowndes
Development Authority

2022 Board of Directors
Brad Folsom, Chair
Tom Call, Vice Chair
Aneesha Johnson, Secretary
Jerry Jennett, Director
Terri Lupo, Director

Term Exp 1/1/2023 (County Appointee)
Term Exp 1/1/2026 (City Appointee)
Term Exp 1/1/2024 (City/County Joint Appointee)
Term Exp 1/1/2027 (City Appointee)
Term Exp 1/1/2025 County Appointee)

BOARD OF DIRECTORS MEETING

Tuesday, January 18, 2022, 5:30 pm

AGENDA

* Vote

Welcome, Invocation & Call to Order Brad Folsom
Approval of Minutes

General Monthly Minutes December 15, 2021 Brad Folsom *

Consideration of Financial Report, December 2021 Tom Davis *
Presentation of 2020-2021 Audit-Mr. Mark Rogers
Project Management Report Stan Crance

Virtual World Technologies
Bimbo QSR

Business Development Report
Strategic Development Report
Director's Report Andrea Schruijer
Attorney Report Bill Holland

Bimbo QSR Easement *
Ace Electric Inc. *

Items for Consideration
Citizens to be Heard
Executive Session TBD
Adjourn Monthly Meeting

Next Monthly Meeting: Wednesday, February 15, 2022
-jsq
Investigative reporting costs money, for open records requests, copying, web hosting, gasoline, and cameras, and with sufficient funds we can pay students to do further research. You can donate to LAKE today!
Short Link: