23 minutes last night to approve 3:2 with many conditions rezoning the 6c. REZ-2017-09 Robert A. Register Estate, with no shouting afterwards like there was at at the previous evening's Planning Commission meeting, yet a lot of grumbling at the Lowndes County Commission Regular Session, especially since they seem to have forgotten the greenspace condition.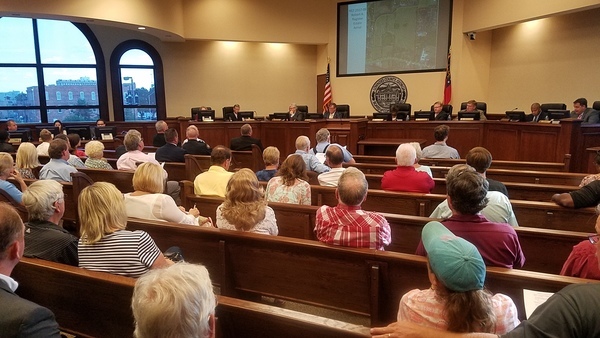 I would like to commend the Commission for the amount and depth of discussion in this meeting, especially in the unscheduled 10. Commission Comments and Recognitions and Meeting Adjournment, which was mostly about Clay Griner's idea of having a county-wide utility authority including all the cities in the county. Update 2017-10-20: moved the rest of this utility authority commentary down to the video item below.
Also not on the agenda was Chairman Slaughter comments on community response to Hurricane Irma (which were mostly about county staff; well-deserved especially for Ashley Tye) and Georgia Power Representative recognizes county hurricane response.
While it's great that Georgia Power came to compliment the county, does that electric utility rep. reside in or pay property taxes in Lowndes County, and why was he not required to state his name and address? Ditto the software salesman for Continue reading →