23 minutes last night to approve 3:2 with many conditions rezoning the 6c. REZ-2017-09 Robert A. Register Estate, with no shouting afterwards like there was at at the previous evening's Planning Commission meeting, yet a lot of grumbling at the Lowndes County Commission Regular Session, especially since they seem to have forgotten the greenspace condition.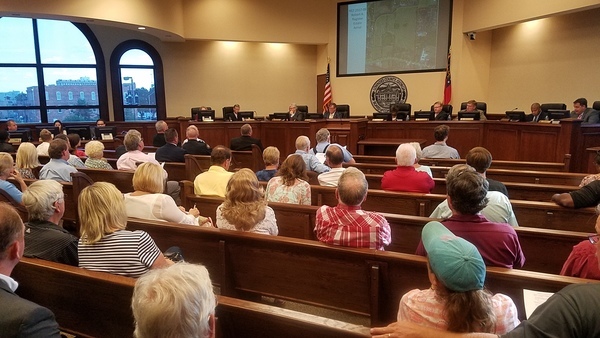 I would like to commend the Commission for the amount and depth of discussion in this meeting, especially in the unscheduled 10. Commission Comments and Recognitions and Meeting Adjournment, which was mostly about Clay Griner's idea of having a county-wide utility authority including all the cities in the county. Update 2017-10-20: moved the rest of this utility authority commentary down to the video item below.
Also not on the agenda was Chairman Slaughter comments on community response to Hurricane Irma (which were mostly about county staff; well-deserved especially for Ashley Tye) and Georgia Power Representative recognizes county hurricane response.
While it's great that Georgia Power came to compliment the county, does that electric utility rep. reside in or pay property taxes in Lowndes County, and why was he not required to state his name and address? Ditto the software salesman for 7 f. Public Safety Information Technology Purchase. Sure and they had legitimate business with the county. But so do many county residents and taxpayers who don't get to speak until the end of the meeting in Citizens Wishing to Be Heard, and then only if they filled out a form before the meeting. In many counties citizens can speak on any agenda item, and are invited also to speak before or after the main agenda items.
Of agenda items, seven and a half minutes for 7 f. Public Safety Information Technology Purchase (much of it confusion about the purchase price), followed at 4 minutes by 7b. Abandonment of part of Old Lake Park Road and Hickory Grove Road SE
An appointee had resigned from each of South Georgia Community Service Board and the Lowndes County DFCS Board, a Commissioner made a nomination on the spot, nobody made any other nomination, and the Chairman declared the one mentioned person appointed by acclamation, with no motion, no second, and no vote. Merriam-Webster defines acclamation as:
a loud eager expression of approval, praise, or assent
an overwhelming affirmative vote by cheers, shouts, or applause rather than by ballot
Apparently silence is loud approval at the Lowndes County Commission. Hm, I wonder if that's legal.
Below are links to each LAKE video of the Lowndes County Commission Regular Session of 26 September 2017. See also the LAKE videos of the previous morning's Work Session and the previous notes with the agenda. For the three rezoning cases, see also the LAKE videos of the Planning Commission meetings of 28 August 2017 and 25 September 2017.
Here's a LAKE video playlist:

Videos: Hurricane Irma, Register rezoning, Utility Authority
Regular Session, Lowndes County Commission (LCC),
Video by Gretchen Quarterman for Lowndes Area Knowledge Exchange (LAKE),
Valdosta, Lowndes County, Georgia, September 26, 2017.
-jsq
Investigative reporting costs money, for open records requests, copying, web hosting, gasoline, and cameras, and with sufficient funds we can pay students to do further research. You can donate to LAKE today!
Short Link: