Update 2023-09-12: WWALS blog, Clinch County Resolution against strip mine, for Okefenokee Swamp 2023-09-11.
The Clinch County Commission set aside $50,000 as cash match for a Dark Sky Observatory next to the Okefenokee National Wildlife Refuge (ONWR), and passed a resolution supporting the Okefenokee Swamp against the proposed titanium mine.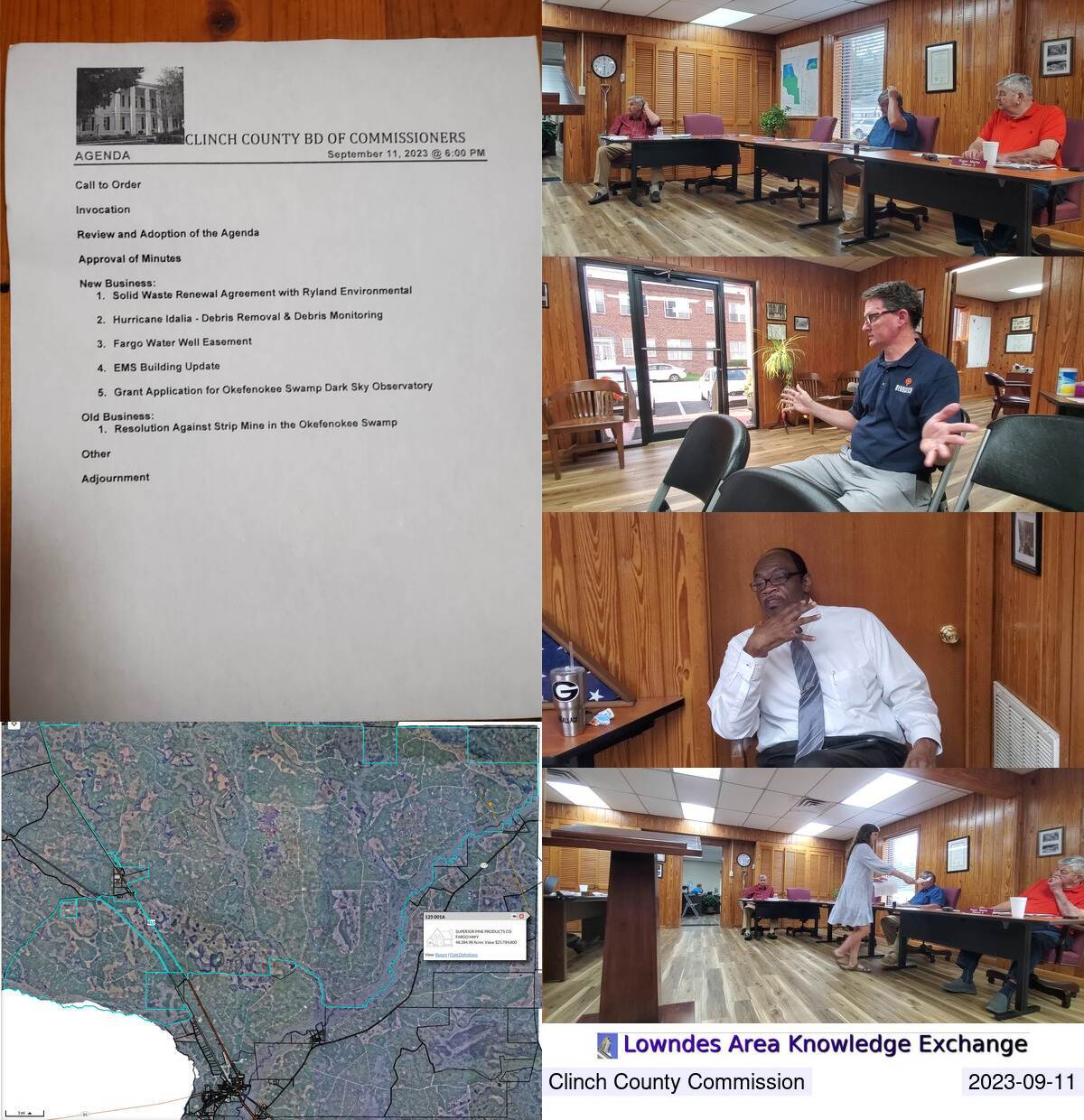 Collage @ Clinch County Commission 2023-09-11
The Dark Sky project involves a building with a rollaway roof. Superior Pine Products has donated some land next to ONWR; exactly where is not clear, although it has to be north up GA 177 near the refuge entrance, yet across the Suwannee River on the west or right bank. It will be interesting to see how people will get in to use it.
The resolution includes:
"7. Request the U.S. Fish and Wildlife Service to move the Okefenokee National Wildlife Refuge from a tentative list to become a full UNESCO World Heritage Site, and support a bill by a bipartisan coalition of members of Congress in support of that move."
As Chairman Henry Moylan remarked, the UNESCO World Heritage List is a big deal, since it goes through the U.N. and includes sites like the Pyramids and the Grand Canyon. Getting ONWR on it should attract more visitors. That list also includes Yellowstone, Yosemite, Great Smoky Mountains, and Everglades National Parks, so it's a bit puzzling why ONWR is not already on there.
That was in addition to regular business, including renewing a solid waste removal contract and building an EMS building: they decided to look into building a steel building first, and then see about the insides.
Clinch County is not one of the ones declared a federal disaster area (Lowndes, Cook, and Glynn), but it is among those eligible for public assistance for debris removal. Which requires hiring both a debris removal company and a monitoring company. As the representative from DebrisTech explained, that's because of Hurricane Katrina, after which there was much fraud. So his firm follows each debris removal truck as it picks up and delivers, photographing with GPS coordinates. Homerville City Manager Wallace Mincey said the city had been looking into debris removal, but would probably go in with the county on that.
The Commissioners did not do anything about a Fargo Water Well Easement, because nobody could identify any land owned by the county inside Fargo City Limits. Nobody from Fargo was at the meeting.
Here is the agenda: Continue reading →