Update 2023-01-28: Videos: Dollar General Defeated, VLDA appointment, subdivision infrastructure, VOCA, server blades @ LCC Regular 2023-01-24.
The second-longest item at the Lowndes County Commission Work Session this morning was the proposed rezoning for a Dollar General at GA 122 and Skipper Bridge Road, slightly uphill from the Withlacoochee River. They vote tonight at 5:30 PM. You can still call your Commissioner or send email, or speak in the Public Hearing this evening.
The two subdivision infrastructure acceptances on or near Val Del Road remind us all of what happens when the county pushes development onto a road, as they did back in 2007 by running water and sewer to Nelson Hill on Val Del Road.
The longest item at almost three minutes was 7.c. Special Assessment Rate for 2023, which has to be set every year, even though it hasn't been used in decades.
About the rezoning, County Planner JD Dillard said another letter opposing the rezoning had been received, from someone about three quarters of a mile north on Skipper Bridge, but he did not say who it was nor what they wrote.
For no apparent reason, he put up a map showing nearest distances to residences.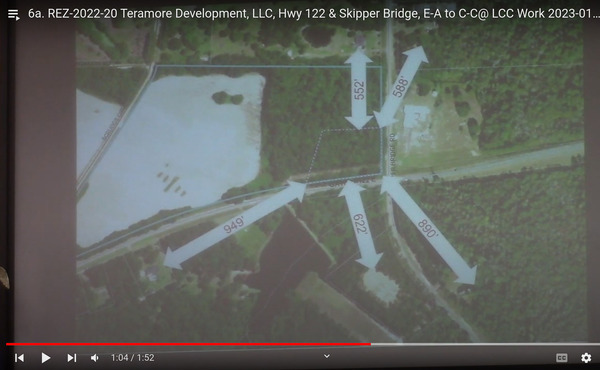 6.a. REZ-2022-20, Distances, GA 122 & Skipper Bridge
The problems with this rezoning affect the entire county's tax base and people far away, including all the way down the Withlacoochee River. See: Please deny Dollar General rezoning, GA 122 @ Skipper Bridge Road –WWALS to Lowndes County 2023-01-23.
Also, drainage from the site goes under GA 122 onto the property to the south, then under Skipper Bridge Road onto the property to the east of that, affecting both landowners much closer than their residences. Ghis is in addition to trash and other pollution from the site washing into Poley Branch and the Withlacoochee River, affecting wildlife and potentially getting into groundwater used by water wells.
The County Planner also put up a rendering of an "Enhanced Facade" that he said Dollar General is offering. Which addresses none of the issues raised.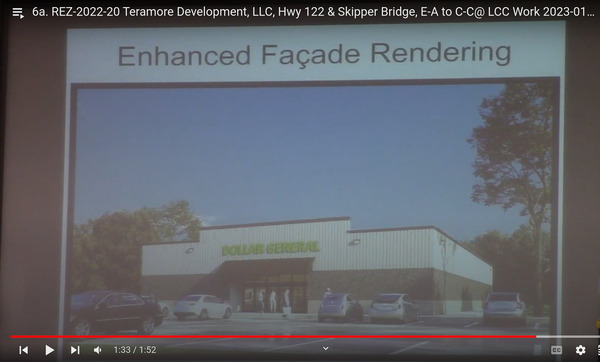 6.a. REZ-2022-20, Enhanced Facade, Dollar General
County planning staff still recommends approvel of the rezoning. The Planning Commission 7:1 recommended denial because they say it is spot zoning, which it is, in addition to all its other problems.
Below are links to each LAKE video of each agenda item, with a few notes by Gretchen Quarterman, followed by a LAKE video playlist. See also the agenda and board packet.
Here's a LAKE video playlist:

Videos: new attorney, VLDA appointment, Dollar General rezoning, 2 infrastructure, special assessment rate, VOCA @ LCC Work 2023-01-23
Lowndes County Commission Work Session, Monday, January 23, 2023, Valdosta, Lowndes County, Georgia.
Videos by Gretchen Quarterman for Lowndes Area Knowledge Exchange (LAKE).
-jsq
Investigative reporting costs money, for open records requests, copying, web hosting, gasoline, and cameras, and with sufficient funds we can pay students to do further research. You can donate to LAKE today!
Short Link: