Update 2023-05-06: Dollar General developer and property owner sue Lowndes County about rezoning denial –VDT 2023-05-03.
Update 2023-01-29: Lowndes County nixes planned Dollar General –VDT 2023-01-26.
Much to the surprise of the several dozen opponents of the Dollar General rezoning, and even after the DG developer attorney attempted to tell his version of the Lowndes County Commission's legal responsibilities, all the Commissioners voted to deny the rezoning.
The audience laughed at the Dollar General's offer of an "enhanced facade," as conveyed by County Planner JD Dillard. Even after Chairman Bill Slaughter limited each side to ten minutes, the opposition gave excellent summaries.
Heath Dawson, who is the nearest neighbor to the north and a commercial banker, attested that the project would not pass banking muster, and objected to the trash such developments produce and said he was disappointed that Commissioner Scottie Orenstein did not come to talk about the situation as he had promised, and he reminded everyone that the Planning Commission recommended denial 7:1.
William Cope said he lives about 500 feet from the site, he reminded everyone there are already Dollar Generals nearby in Hahira and at Walkers Crossing, he presented a petition with 180 opposition signatures, he remarked on trash and drainage, and he said the neighbors don't want any commercial development in the area.
Roxanne Newton called Dollar General a predatory company, citing several southern cities that had made new rules to prevent Dollar Generals. She contrasted social media by Commissioners supporting agriculture and forestery and promoting river cleanups, with them potentially supporting this commercial rezoning in an agricultural and forestery area near the Withlacoochee River. She appreciated the African-American Mt. Olive Church opening its arms to the newer residents, and asked why the Commission would disrespect that black church by putting a Dollar General across the road from it.
Matt Osteen said a Dollar General would be no good for the Withlacoochee River, none of the neighbors want it, and spot zoning sounds like cancer: it expands. He recommended following the Planning Commission's recommendation to deny. "And please listen to the voices of the many, including the 180 that couldn't be here, versus the dollars of the few."
The developer had a court recorder taking a transcript. The attorney for the developer, Duke Groover, claimed the public had already spoken when the Comprehensive Plan was approved with the possible exception of C-C zoning in an Agriculture and Forestry Character Area; you can see several people shaking their heads at that. He did several times acknowledge the opponents in the audience, while recommending the Commissioners ignore their opinions.
His main point seemed to be that citizens' opinions don't count in rezoning, other than the opinion of the property owner. Nonetheless he said, "The zoning classification is only legitimate if it bears a substantial relationaship to the public health, safety, morality." Well, trash on the roads and in the Withlacoochee River is a public health problem, increased traffic is a safety problem, and letting a big company from somewhere else plop a development foothold in an agricultural and forestry area is a morality issue.
He claimed the county staff were "unbiased, who have no dog in this fight." Which is interesting, considering staff want to develop all over the county, as we've seen repeatedly on Val Del Road and elsewhere. The attorney mentioned a survey that the public has not seen that he said indicated that people wanted the Dollar General, and a market evaluation report that he said indicated that it would cause no harm.
He went on about damage to the landowner by not rezoning could be a legal problem. That kind of scare tactics about a potential lawsuit after a rezoning decision often seems to work with county commissions. But not this time.
The unanimous County Commission vote to deny the Dollar General rezoning is a sea change from back in 2012 when a Dollar General was proposed for Naylor. Back then the Planning Commission unanimously recommended despite citizen complaints, including that it would put out of business a local store. The developer didn't show up at the Planning Commission and wasn't even named.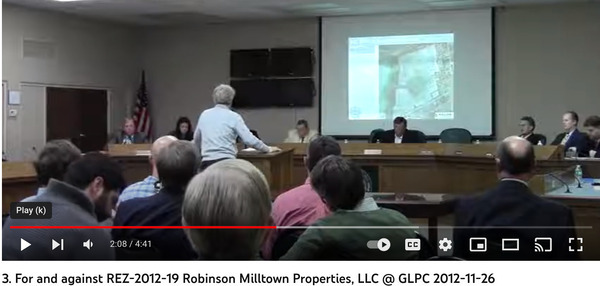 Dr. Matthew Richard speaks against a rezoning for a Dollar General @ GLPC 2012-11-26
Somebody did speak for Dollar General at the County Commission on December 11, 2012, referring to a market survey and a many-year guarantee of occupancy. The public had not seen either of those documents, and they were not mentioned at the Planning Commission. The County Commission unanimously approved that Naylor Dollar General rezoning back in 2012.
On a couple of the more recent DG rezonings, the County Commission at least put conditions. And finally they denied this one, on GA 122 at Skipper Bridge Road, on January 24, 2023. Congratulations, Lowndes County Commission!
As expected, the Commissioners reappointed the only nominee, Brad Folsom, to the 5.a. Valdosta-Lowndes County Development Authority.
The County Manager mentioned Commissioners were going to attend a groundbreaking at the former Griner property on Webster Street, which is where they plan to spend $2,542,586 to make a Griner Park a few blocks from Valdosta's new Unity Park. She talked about an upcoming meeting with the Homebuilders Association, whom she referred to as stakeholders in and customers of the new Lowndes County permitting office. She did not mention citizens as stakeholders or customers.
Lowndes County EMA Director Ashley Tye gave a weather report, mentioning recent tornado damage in Cook County, and predicting a squall line coming in the next day in Lowndes County. There were no tornados this time, but that Wednesday rain did wash E. coli contamination into creeks and rivers.
In Citizens Wishing to Be Heard, I thanked the Lowndes County and Moody AFB Fire Departments for showing up quickly when called, even though there was no need when I was doing a prescribed burn of 20 acres of CRP planted longleaf pines on Quarterman Road. This is yet another reason subdivision do not belong in agricultural and forestry areas: subdivision residents do not understand prescribed burns.
Also in CWTBH, John Morris talked about the county noise ordinance and some things it does not address, such as noise from stereos, working on old cars, etc., and how loud.
Below are links to each LAKE video of each agenda item, with a few notes by Gretchen Quarterman, followed by a LAKE video playlist.
See also the LAKE videos of the previous morning's Work Session, the WWALS letter against the rezoning, and the agenda and board packet.
Here's a LAKE video playlist:

Videos: Dollar General Defeated, VLDA appointment, subdivision infrastructure, VOCA, server blades @ LCC Regular 2023-01-24
Regular Session, Lowndes County Commission, Valdosta, Lowndes County, Georgia, Tuesday, January 24, 2023.
Videos by Gretchen Quarterman for Lowndes Area Knowledge Exchange (LAKE).
-jsq
Investigative reporting costs money, for open records requests, copying, web hosting, gasoline, and cameras, and with sufficient funds we can pay students to do further research. You can donate to LAKE today!
Short Link: