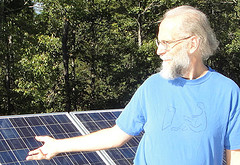 My op-ed in the VDT today. Remember to vote today or Tuesday. -jsq
This spring, the University at Buffalo turned on 750 kilowatts of solar electricity. Rutgers U., in New Jersey, installed 1.4 megawatts in 2009 and started on 8 MW this summer. Down here with a lot more sun, how about solar panels on VSU parking lots?

There's plenty of private solar financing available. Also in New Jersey, a company installed 6 MW of solar on high school land and leased the power to the school supplying most of its needs win-win. You can go see a solar farm already working fine here, 200 kilowatts at Mud Creek Wastewater Plant. Why not do the same

at Lowndes High School, where all the world on I-75 could see, attracting business to our community?
Why not?
Continue reading