So if Southern Company expected cost overruns at Plant Vogtle,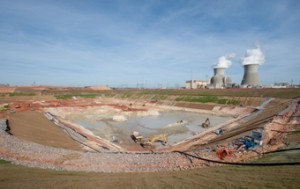 why didn't they make a better estimate in the first place? What incentive do they have not to continue running up the cost and delaying completion, since they get to keep charging Georgia Power customers for construction, including for cost overruns, while floating $8.3 billion in federally guaranteed loans? Where is the financial integrity in all that?
AP reported yesterday, and even Fox News carried it, Building costs increase at US nuclear sites. They're not talking about housing prices near the sites, either.
America's first new nuclear plants in more than a decade are costing billions more to build and sometimes taking longer to deliver than planned, problems that could chill the industry's hopes for a jumpstart to the nation's new nuclear age.

Licensing delay charges, soaring construction expenses and installation glitches as mundane as misshapen metal bars have driven up the costs of three plants in Georgia, Tennessee and South Carolina, from hundreds of millions to as much as $2 billion, according to an Associated Press analysis of public records and regulatory filings.

Those problems, along with jangled nerves from last year's meltdown in Japan and the lure of cheap natural gas, could discourage utilities from sinking cash into new reactors, experts said. The building slowdown would be another blow to the so-called nuclear renaissance, a drive over the past decade to build 30 new reactors to meet the country's growing power needs. Industry watchers now say that only a handful will be built this decade.

"People are looking at these things very carefully," said Richard Lester, head of the department of nuclear science and engineering at the Massachusetts Institute of Technology. Inexpensive gas alone, he said, "is casting a pretty long shadow over the prospects" for construction of new nuclear plants.
AP continues with a list of late and over-budget nuke projects, including Southern Company's Plant Vogtle $800 million over and seven months late, TVA's Watts Bar plant $2 billion over and 3 years late, Duke's Plant Summer SCANA and Santee Cooper's Summer Station $670 million over and a year late.
Southern Co. and others in the nuclear business say cost overruns are expected in projects this complex…
So why are they wasting our money on nukes when they could be deploying a lot more solar and wind on time and on budget?
…and that they are balanced out by other savings over the life of the plant. Southern Co. expects Plant Vogtle will cost $2 billion less to operate over its 60-year lifetime than initially projected because of anticipated tax breaks and historically low interest rates.
Get that? "anticipated tax breaks" that leave we the taxpayers Continue reading →