Who voted for that Nuclear Construction Cost Recovery Rider that appears on your Georgia Power bill, charging you for electricity you won't get from the new plant Vogtle nukes for years?
Project Vote Smart has lists of Yeas and Nays for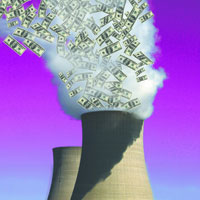 that Construction Work in Progress (CWIP) charge, which was in 2009's SB 31, "Energy Rate Increases to Finance Nuclear Power Plant Construction".
Compliments to all who voted Nay to this stealth tax that is slowing down deploying renewable energy in Georgia, delaying the solar and wind clear path to jobs and energy independence. Georgia Power customers can also vote against CWIP with their bill payments.
First let's look at our local delegation:
| District | Who | Party | Voted |
| --- | --- | --- | --- |
| 8 | Sen. Tim Golden | Turncoat | Yea |
| 174 | Rep. Ellis Black | Turncoat | Yea |
| 175 | Rep. Amy Carter | Turncoat | Yea |
| 176 | Rep. Jay Shaw | Democratic | Yea |
Every one of our local delegation voted for the CWIP rate hike. Here "Turncoat" as a party indicates they were Democrats at the time, but since got re-elected as a Democrat in 2010 and then became Republicans after the election. Democrat Jay Shaw did not run again. His son Jason Shaw ran as a Republican and won. Project Vote Smart is a bit confused by that, and by the party switching, so I've corrected those points in these lists.
Why do the Yeaers want to let Georgia Power charge its customers for electricity they won't get for years, if ever?
Also, notice every Democratic and one Republican co-sponsor of SB-31 is out of office.
Don Balfour (GA – R)
J.B. Powell (GA – D) (Out Of Office)
Chip Rogers (GA – R)
Mitchell W. 'Mitch' Seabaugh (GA – R) (Out Of Office)
Ed Tarver (GA – D) (Out Of Office)
Thorborn 'Ross' Tolleson Jr. (GA – R)
Hm, maybe voting for that nuke boondoggle wasn't good politics….
Here are the complete lists of votes on SB 31 for Senate and House. In the House list there's former Speaker Glenn Richardson not voting! And now he and former Governor Roy Barnes are suing Georgia Power about CWIP.
-jsq
Georgia Senate votes on SB 31

Yea
Sen. Eric B. Johnson
[R 1]
Sen. Jack Hill
[R 4]
Sen. Greg Goggans
[R 7]
Sen. Tim Golden
[T 8]
Sen. Don Balfour
[R 9]
Sen. Emanuel Jones
[D 10]
Sen. John D. Bulloch Jr.
[R 11]
Sen. John Dickey 'Dick' Crosby
[R 13]
Sen. Ed Harbison
[D 15]
Sen. Ronnie Chance
[R 16]
Sen. John F. Douglas
[R 17]
Sen. Cecil Staton
[R 18]
Sen. Tommie Williams
[R 19]
Sen. Thorborn 'Ross' Tolleson Jr.
[R 20]
Sen. Chip Rogers
[R 21]
Sen. Ed Tarver
[D 22]
Sen. J.B. Powell
[D 23]
Sen. William S. 'Bill' Jackson
[R 24]
Sen. Johnny Grant
[R 25]
Sen. Jack Murphy
[R 27]
Sen. Mitchell W. 'Mitch' Seabaugh
[R 28]
Sen. Seth Harp
[R 29]
Sen. William 'Bill' Hamrick III
[R 30]
Sen. Bill Heath
[R 31]
Sen. Judson Hill
[R 32]
Sen. Valencia M. Seay
[D 34]
Sen. John J. Wiles
[R 37]
Sen. Dan Weber
[R 40]
Sen. Renee S. Unterman
[R 45]
Sen. Bill Cowsert
[R 46]
Sen. Ralph T. Hudgens
[R 47]
Sen. David Shafer
[R 48]
Sen. Lee Hawkins
[R 49]
Sen. Jim B. Butterworth
[R 50]
Sen. Chip Pearson
[R 51]
Sen. Jeff E. Mullis
[R 53]
Sen. Don R. Thomas
[R 54]
Sen. Dan Moody
[R 56]

Nay
Sen. Lester G. Jackson III
[D 2]
Sen. Jeff Chapman
[R 3]
Sen. Curt B. Thompson II
[D 5]
Sen. Doug Stoner
[D 6]
Sen. Freddie Powell Sims
[D 12]
Sen. Robert Brown
[D 26]
Sen. Steve Thompson
[D 33]
Sen. Kasim Reed
[D 35]
Sen. Nancy Grogan 'Nan' Orrock
[D 36]
Sen. Horacena Tate
[D 38]
Sen. Vincent D. Fort
[D 39]
Sen. Steve Henson
[D 41]
Sen. David Adelman
[D 42]
Sen. Ronald B. Ramsey Sr.
[D 43]
Sen. Preston W. Smith
[R 52]
Sen. Gloria Butler
[D 55]
Did Not Vote
Sen. George B. Hooks
[D 14]
Sen. Gail M. Buckner
[D 44]
Georgia House votes on SB 31

Yea
Rep. Jay Neal
[R 1]
Rep. Thomas Darrell 'Tom' Weldon Jr.
[R 3]
Rep. Roger Williams
[R 4]
Rep. John Meadows III
[R 5]
Rep. Tom Dickson
[R 6]
Rep. Amos Amerson
[R 9]
Rep. Tom Graves
[R 12]
Rep. Katie M. Dempsey
[R 13]
Rep. Barry Loudermilk
[R 14]
Rep. Paul R. Battles
[R 15]
Rep. Howard R. Maxwell
[R 17]
Rep. Charlice Byrd
[R 20]
Rep. Calvin Hill
[R 21]
Rep. Sean Jerguson
[R 22]
Rep. Mark Hamilton
[R 23]
Rep. Tom Knox
[R 24]
Rep. James Mills
[R 25]
Rep. Doug Collins
[R 27]
Rep. Tom McCall
[R 30]
Rep. Thomas 'Tommy' Benton
[R 31]
Rep. Judy H. Manning
[R 32]
Rep. Ed Setzler
[R 35]
Rep. Earl D. Ehrhart
[R 36]
Rep. Sharon Cooper
[R 41]
Rep. Don L. Parsons
[R 42]
Rep. Matt Dollar
[R 45]
Rep. Jan Jones
[R 46]
Rep. Charles E. 'Chuck' Martin Jr.
[R 47]
Rep. Harry Geisinger
[R 48]
Rep. Wendell Willard
[R 49]
Rep. Mark Burkhalter
[R 50]
Rep. Tom Rice
[R 51]
Rep. Joe Wilkinson
[R 52]
Rep. Edward H. Lindsey Jr.
[R 54]
Rep. Joseph B. 'Joe' Heckstall
[D 62]
Rep. Bill Hembree
[R 67]
Rep. Randy Nix
[R 69]
Rep. Lynn R. Smith
[R 70]
Rep. Billy Horne
[R 71]
Rep. Matthew 'Matt' Ramsey
[R 72]
Rep. John Yates
[R 73]
Rep. Mike Glanton
[D 76]
Rep. Darryl Jordan
[D 77]
Rep. Fran Millar
[R 79]
Rep. Kevin Levitas
[D 82]
Rep. Karla Drenner
[D 86]
Rep. Howard Mosby
[D 90]
Rep. Dee Dawkins-Haigler
[D 93]
Rep. Brooks Coleman Jr.
[R 97]
Rep. Michael T. 'Mike' Coan
[R 101]
Rep. Clay Cox
[R 102]
Rep. David Casas
[R 103]
Rep. Donna Sheldon
[R 105]
Rep. Melvin Everson
[R 106]
Rep. Len Walker
[R 107]
Rep. Terry 'Pete' England
[R 108]
Rep. Steve Davis
[R 109]
Rep. John Lunsford
[R 110]
Rep. Jeff May
[R 111]
Rep. Doug Holt
[R 112]
Rep. Bob Smith
[R 113]
Rep. Keith G. Heard
[D 114]
Rep. Robert M. 'Mickey' Channell Jr.
[R 116]
Rep. Lee I. Anderson
[R 117]
Rep. Ben Harbin
[R 118]
Rep. Barbara Sims
[R 119]
Rep. William Quincy Murphy
[D 120]
Rep. Henry 'Wayne' Howard
[D 121]
Rep. Hardie Davis
[D 122]
Rep. Gloria Frazier
[D 123]
Rep. Helen G. 'Sistie' Hudson
[D 124]
Rep. Jim Cole
[R 125]
Rep. David Knight
[R 126]
Rep. Billy Maddox
[R 127]
Rep. Carl Von Epps
[D 128]
Rep. Vance C. Smith Jr.
[R 129]
Rep. Richard H. Smith
[R 131]
Rep. Calvin Smyre
[D 132]
Rep. Mike Cheokas
[T 134]
Rep. Lynmore James
[D 135]
Rep. Tony Sellier
[R 136]
Rep. Allen M. Peake
[R 137]
Rep. Nikki T. Randall
[D 138]
Rep. Jimmy Pruett
[R 144]
Rep. Willie L. Talton
[R 145]
Rep. Larry O'Neal Jr.
[R 146]
Rep. Buddy Harden
[R 147]
Rep. Carol H. Fullerton
[D 151]
Rep. Jay Roberts
[R 154]
Rep. Greg Morris
[R 155]
Rep. Butch Parrish
[R 156]
Rep. Jon G. Burns
[R 157]
Rep. Bob Lane
[R 158]
Rep. Earl 'Buddy' Carter
[R 159]
Rep. Al Williams
[D 165]
Rep. Terry E. Barnard
[R 166]
Rep. Tommy Smith
[R 168]
Rep. Chuck Sims
[R 169]
Rep. Jay Powell
[R 171]
Rep. Gene Maddox
[R 172]
Rep. Mike Keown
[R 173]
Rep. Ellis Black
[T 174]
Rep. Amy Carter
[T 175]
Rep. Jay Shaw
[D 176]
Rep. Mark Williams
[R 178]
Rep. Jerry L. Keen
[R 179]
Rep. Cecily Hill
[R 180]

Nay
Rep. Martin Scott
[R 2]
Rep. David Ralston
[R 7]
Rep. Stephen Allison
[R 8]
Rep. Rick Austin
[R 10]
Rep. Barbara Massey Reece
[D 11]
Rep. Rick Crawford
[D 16]
Rep. Mark Butler
[R 18]
Rep. Carl Rogers
[R 26]
Rep. Michael Harden
[R 28]
Rep. Alan T. Powell
[T 29]
Rep. Don Wix
[D 33]
Rep. Richard 'Rich' Golick
[R 34]
Rep. Terry Johnson
[D 37]
Rep. Pat Dooley
[D 38]
Rep. Alisha Thomas Morgan
[D 39]
Rep. Rob Teilhet
[D 40]
Rep. Bobby Franklin
[R 43]
Rep. Sheila Jones
[D 44]
Rep. Elly Dobbs
[D 53]
Rep. Rashad Taylor
[D 55]
Rep. Kathy B. Ashe
[D 56]
Rep. Pat Gardner
[D 57]
Rep. Robbin Shipp
[D 58]
Rep. Margaret D. Kaiser
[D 59]
Rep. Georganna T. Sinkfield
[D 60]
Rep. Ralph A. Long III
[D 61]
Rep. Tyrone L. Brooks Sr.
[D 63]
Rep. Roger Bruce
[D 64]
Rep. Sharon Beasley-Teague
[D 65]
Rep. Virgil L. Fludd
[D 66]
Rep. Timothy J. Bearden
[R 68]
Rep. Roberta Abdul-Salaam
[D 74]
Rep. Celeste Johnson
[D 75]
Rep. Mike Jacobs
[R 80]
Rep. Jill Chambers
[R 81]
Rep. Mary Margaret Oliver
[D 83]
Rep. Stephanie Stuckey Benfield
[D 85]
Rep. Michele Henson
[D 87]
Rep. Billy Mitchell
[D 88]
Rep. Rahn Mayo
[D 91]
Rep. Randal Mangham
[D 94]
Rep. Toney L. Collins
[D 95]
Rep. Pedro 'Pete' Marin
[D 96]
Rep. Bobby Reese
[R 98]
Rep. Hugh Floyd
[D 99]
Rep. Brian Thomas
[D 100]
Rep. Lee Thompson
[D 104]
Rep. Doug McKillip
[T 115]
Rep. Debbie G. Buckner
[D 130]
Rep. Carolyn F. Hugley
[D 133]
Rep. David E. Lucas Sr.
[D 139]
Rep. James A. 'Bubber' Epps
[T 140]
Rep. Bobby Eugene Parham
[D 141]
Rep. Mack Jackson
[D 142]
Rep. DuBose Porter
[D 143]
Rep. Bob Hanner
[T 148]
Rep. Winfred J. Dukes
[D 150]
Rep. Ed Rynders
[R 152]
Rep. James Austin Scott
[R 153]
Rep. Bob Bryant
[D 160]
Rep. Edward 'Mickey' Stephens
[D 161]
Rep. J. Craig Gordon
[D 162]
Rep. Burke Day
[R 163]
Rep. Roger B. Lane
[R 167]
Rep. Penny Houston
[R 170]
Rep. Mark Hatfield
[R 177]
Did Not Vote
Rep. Glenn Richardson
[R 19]
Rep. Glenn Baker
[D 78]
Rep. Stacey Yvonne Abrams
[D 84]
Rep. Earnest 'Coach' Williams
[D 89]
Rep. Pam S. Stephenson
[D 92]
Rep. Gerald E. Greene
[T 149]
Rep. Ron Stephens
[R 164]
Short Link: