Tuesday at 5:30 PM the Lowndes County Commission proposes to spend about $73,000 on water projects, which is a good thing. Monday at 8:30 AM they also do have a Work Session scheduled.
| Cost | What |
| --- | --- |
| $71,789.00 | Blue Lake Lift Station Emergency Repair Work Session/Regular Session DATE OF MEETING: June 9, 2020 |
| $1,208.80 | Approve Condemning ROW and Drainage Easement for Clyattstone Rd.-Simpson Ln. TSPLOST Paving Project |
| $72,997.8 | Total |
I commend the county for proactively preventing major sewer system leaks. Hm, only one bid?
"HISTORY, FACTS AND ISSUES: The discharge pipes at Blue Lake lift station are leaking due to corrosion. Staff has deemed this an emergency due to the condition of the pipes and the pumps not operating at capacity. A bid was received from RPI Underground Inc. for $71,789.00 to make the necessary repairs to bring the station back to designed capacity and operation. Staff recommends approval of Blue Lake lift station emergency repairs and authorize RPI Underground Inc to make the repairs for $71,789.00."
The two rezonings that were not previously heard by the Planning Commission (which did not meet last month due to pandemic) are not listed as having any "BUDGET IMPACT".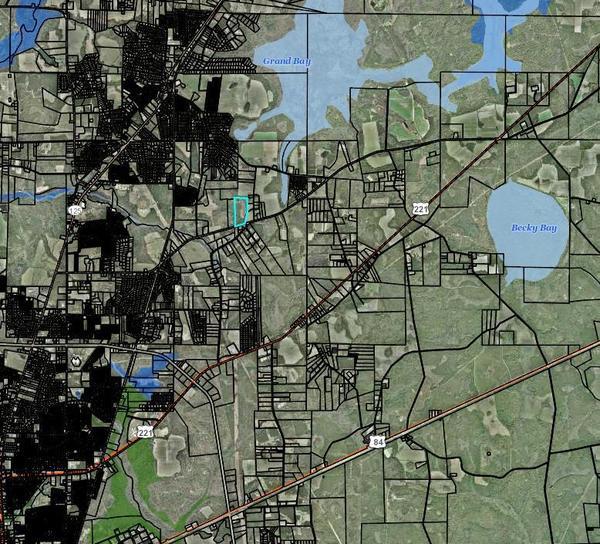 4055 Knights Academy Road location map for Rezoning Case REZ-2020-05 (Districts 1 & 4) Jose Lage, 4055 Knights Academy Rd. R-A to P-D, Well/Septic, ~36.926 acres
Image: Lowndes County Tax Assessors Map.
Also they will (almost certainly) reappoint Andrea Schruijer and Clay Griner to the South Regional Joint Development Authority. And almost certainly they will reappoint Victoria Copeland to the Valdosta-Lowndes County Zoning Board of Appeals (ZBOA), plus someone else, with no candidates listed. Interestingly, the agenda sheet for ZBOA says "DEPARTMENT: Zoning DEPARTMENT HEAD: JD Dillard" even though the county's website still says Trinni Amiot, County Planner and Zoning, Debra Tulloch. They hired J.D. Dillard as County Planner going on four weeks ago.
Both the Lowndes County and Valdosta lists of ZBOA members are out of date, since they both list Gretchen Quarterman as a member, even though her last term expired on May 7, 2020, after 12 years, and ZBOA already had a June meeting without her.
The Greater Lowndes Planning Commission (GLPC) did not meet in May due to pandemic, but the County Commission is having Public Hearings on two rezonings anyway.
The Upgrades to Lowndes County Facilities through a Comprehensive Project Contract turns out to be "to reduce Lowndes County's energy and operation costs, while at the same time modernizing county facilities." Also self-funded. They did put out a Request for Qualifications, 27 companies asked for the RFQ package, but only one submitted an RFQ: ABM Building Solutions LLC. According to the agenda sheet, County Manager Joe Pritchard and Engineering Project Manager Chad McLeod say ABM is qualified. Also: "If ABM is able to show the program does meet all the criteria as set forth in the RFQ and Lowndes County does not move forward with a contract, Lowndes County will pay ABM $50,240.00 for their work on the survey, analysis and final proposal."
Here is the agenda.
LOWNDES COUNTY BOARD OF COMMISSIONERS
PROPOSED AGENDA
WORK SESSION, MONDAY, JUNE 8, 2020, 8:30 a.m.
REGULAR SESSION, TUESDAY, JUNE 9, 2020, 5:30 p.m.
327 N. Ashley Street – 2nd Floor

To comply with the guidelines of the Center for Disease Control (CDC) in regard to the Coronavirus (COVID19) pandemic and social distancing,
face coverings (masks) are required for all meeting participants.
-jsq
Investigative reporting costs money, for open records requests, copying, web hosting, gasoline, and cameras, and with sufficient funds we can pay students to do further research. You can donate to LAKE today!
Short Link: