Update 2022-09-12: REZ-2022-10 The Campus redo because previous decision was illegal: Packet: redo 2 rezonings, 3 extraterritorial water & sewer, $438,537 RR crossing, $2,542,586 Griner Park @ LCC 2022-09-12.
One rezoning was tabled until August 9th, then another was contentiously approved, after which a deputy escorted one opponent out of the room, at the Lowndes County Commission Regular Session, June 16, 2022.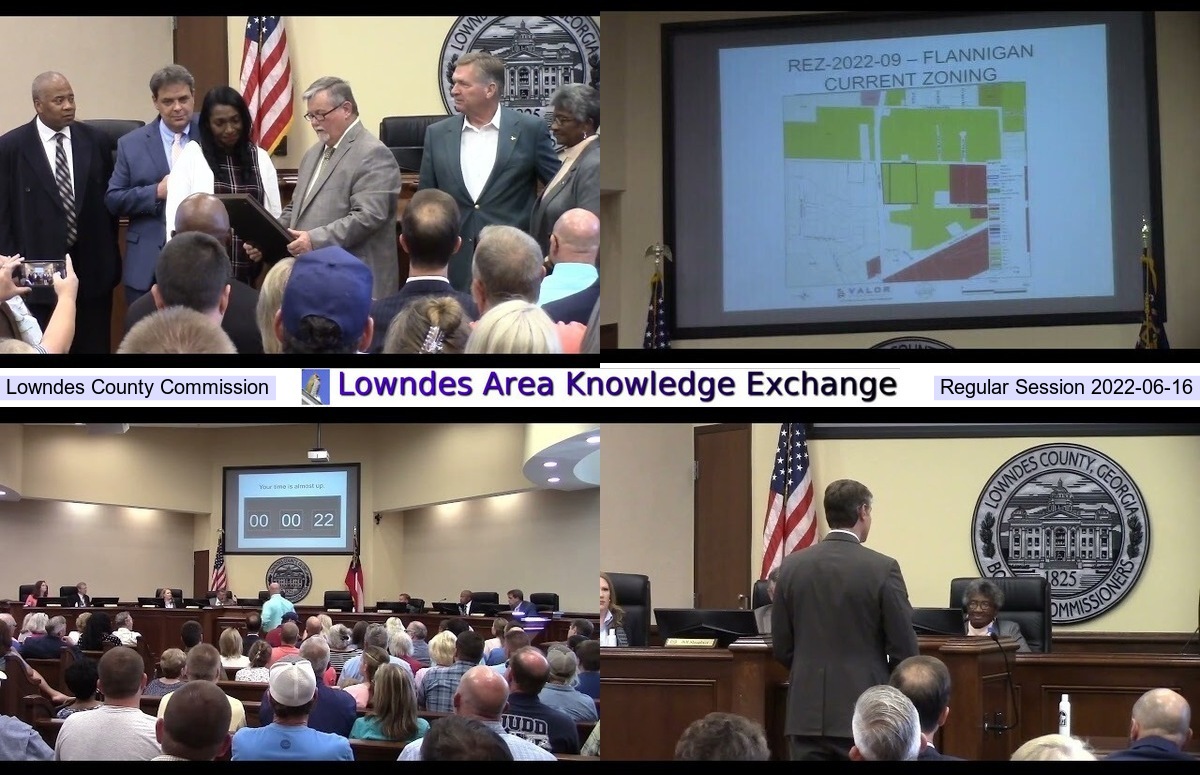 Debra Tann Presentation, three rezonings
The third rezoning was approved with conditions, followed by another NIMBY walkout. That one had petitions both for and against, now on the LAKE website.
The fourth rezoning was withdrawn by applicant.
County Manager Paige Dukes talked about measures to beat the heat, and said water would be available to the public in the Commission building lobby.
Below are links to each LAKE video of each agenda item, with a few notes, followed by a LAKE video playlist. See also the LAKE videos of the Work Session that morning. See also the agenda and the board packet, including the letters and petitions LAKE had first received from the county in response to a LAKE open records request. The other two petitions, about REZ-2022-11, Makesh, for the Dairy Queen in Lake Park, are also now on the LAKE website, received in response to another LAKE open records request. And for the rezonings, the preceding Greater Lowndes Planning Commission meeting.
Here is a LAKE video playlist:
Investigative reporting costs money, for open records requests, copying, web hosting, gasoline, and cameras, and with sufficient funds we can pay students to do further research. You can donate to LAKE today!
-jsq
Short Link: