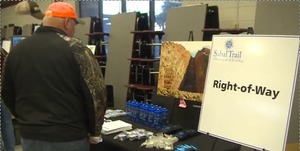 Going on a year after Sabal Trail opened an office in Valdosta, WCTV used the latest protests to do a retrospective.
Winnie Wright reported for WCTV today, 22 October 2014, One Year After Sabal Trail Announces Pipeline Plans, Activists Begin Monthly Protests,
Time may have passed, but opinions haven't changed much here in Valdosta, where people..who are against the pipeline say there are countless reasons why it doesn't belong in their backyards.

"There's a moral obligation to leave the world as beautiful and majestic as we found it, and the pipeline; it does not do that", says Gretchen Quarterman, President of the Lowndes County Democratic Party.
LCDP statement against the pipeline
.
WCTV video:
"The pipeline will split our farm in half, and in reality it could kill us and our family because the pipeline will be about 700-feet behind our house", says Tom Lovett, an Impacted Landowner.
Tom Lovett to FERC, 1 December 2014:
As a Brooks County, Georgia landowner who would be directly affected by Sabal Trail Transmission, LLC's proposed pipeline, I adamantly oppose this proposed pipeline, for the reasons stated below.
Follow
the link
for his reasons.
Back to WCTV:
"I understand why the landowners are upset. I mean I really do. I see that they don't have answers right now, but it just takes time", said Susan Waller, VP of Stakeholder Outreach for Sabal Trail Transmissions.
And I can attest from last night at Sabal Trail's Jasper, FL Open House that Sabal Trail continues to refuse to acknowledge its sad safety record or to answer important questions.
Protestors say Sabal Trail has had plenty of time, but a pipeline still isn't a safe option for the area, one reason: active karst topography, or sinkholes.

"Scientifically speaking, constructing a pipeline through an area that has active karst topogrophy is insane. From the point of view of an individual who has an interest in sustainability, still betting on fossil fuels, as much as the profits may be handy for some, is not forward looking, we have better options, we have safer options, we have cleaner options", says Dr. Michael Noll, a Geographer and President of Wiregrass Activists for Clean Energy.
See for example Sinkhole formation and collapse due to drilling under the Withlacoochee River in Hydrogeology Report: Sabal Trail methane pipeline crossing of Withlacoochee River by David Brown. Sabal Trail proses to use horizontal directional drilling or HDD under these rivers, which already have springs, sinkholes, and caves in copious fracture systems. What happens if the drill bit encounters one or more of those? Potentially sinkhole formation, or collapse into an underground cavern.
Such a hydrofracture, or frac-out would form a hole from the surface into the Floridan Aquifer, which is the source of all our drinking water.
See also the WWALS Watershed Coalition item #9 in the Georgia Water Coalition Dirty Dozen, pubilshed today, Sabal Trail pipeline threatens Withlacoochee River and Floridan Aquifer.
-jsq
Short Link: