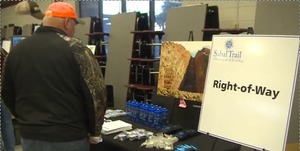 Going on a year after Sabal Trail opened an office in Valdosta, WCTV used the latest protests to do a retrospective.
Winnie Wright reported for WCTV today, 22 October 2014, One Year After Sabal Trail Announces Pipeline Plans, Activists Begin Monthly Protests,
Time may have passed, but opinions haven't changed much here in Valdosta, where people..who are against the pipeline say there are countless reasons why it doesn't belong in their backyards.

"There's a moral obligation to leave the world as beautiful and majestic as we found it, and the pipeline; it does not do that", says Gretchen Quarterman, President of the Lowndes County Democratic Party.
LCDP statement against the pipeline
.
WCTV video: Continue reading →