What if the Industrial Authority supported industry that had a business model, brought jobs, and had the support of the community? It can happen, and already has!
Citizen Carol wrote for Texas Vox 6 January 2012, Austin Energy drought proofs its energy with new Webberville Solar Project,
Public Citizen says kudos to the City of Austin and Austin Energy for their vision and efforts in completing this project. Given that the State Climatologist is warning us that Texas can expect up to 5 more years of the current drought cycle, this project came just in time to help provide our community with drought–proof electricity during the peak use times — that will come in handy next summer.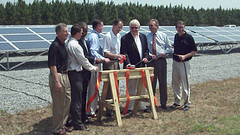 Remember we already discovered this right here in Valdosta and Lowndes County? The Wiregrass Solar commissioning was a popular event, with many critics of the Industrial Authority lavishly praising it for the solar plant. Nobody complained about living near a solar installation. How about some more clean industry?
-jsq