Update 2023-01-30: Packet: Lowndes County rezoning @ GLPC 2022-01-30
The two Hahira items are for the same property, and there is one each for Valdosta and Lowndes County, to be considered Monday evening at the Greater Lowndes Planning Commission (GLPC). The appointed GLPC recommends, with final decisions made at the corresponding City or County elected bodies.
The Bojangles 8-pump gas station and convenience store in Hahira could be contentious. Its applicant wants both a Special Exception and a Variance.
The "multi-tenant commercial center" in Valdosta on James Road off of St. Augustine Road I'm guessing probably will not be contentious.
We have no packet materials for the one Lowndes County item: REZ-2023-02 Thomas Property, Madison Highway, 0136-029C, ~10 acres. In response to a LAKE GORA request of January 17th, on January 18th the Lowndes County Clerk promised that "The packet for the Greater Lowndes Planning Commission (GLPC) will be available from Lowndes County on Tuesday, January 24th by 5:00 p.m." On January 26th the county delivered the minutes of the previous GLPC meeting, but no packet materials for that one county item.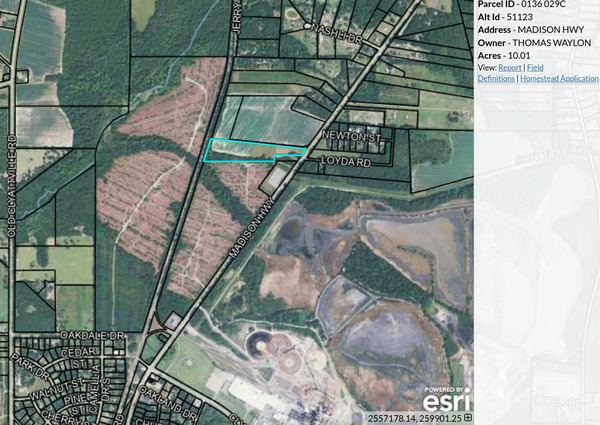 Parcel 0136-029C, Madison Highway, Clyattville –Lowndes County Tax Assessors
As a placeholder, I have stuck in a map of the subject parcel 0136-029C from the Lowndes County Tax Assessors.
What we have of the board packet is on the LAKE website.
Here is the agenda:
Greater Lowndes Planning Commission ~ Lowndes County ~ City of Valdosta ~ City of Dasher ~
~ City of Hahira ~ City of Lake Park ~ City of Remerton ~
Monday, January 23, 2023 5:30 P.M. Work Session
Monday, January 30, 2023 5:30 P.M. Regular Session
Lowndes County South Health District Administrative Office
325 West Savannah Avenue, Valdosta, Georgia

Approval of the Meeting Minutes: November 28, 2022

City of Hahira Cases:

FINAL ACTION by the City of Hahira Mayor-Council, 301 W. Main St., Hahira, Georgia
Hahira Courthouse, Thursday, February 2nd, 2022, 6:00 p.m.
Point of Contact: Matt Martin – Planning and Zoning Administrator (229) 259-3563

HA-2023-01 BoValdosta LLC, 940 GA Highway 122 West
Special Exception for a gasoline station with more than 8 pumps.
HA-2023-02 BoValdosta LLC, 940 GA Highway 122 West
Variances from the Hahira Gateway Corridor Overlay District

City of Valdosta Cases:

FINAL ACTION by the City of Valdosta Mayor-Council, 216 E. Central Avenue,
Valdosta, Georgia, Valdosta City Hall, Council Chambers, 2nd Floor
Thursday, February 9th, 2022, 5:30 p.m.
Point of Contact: Matt Martin – Planning and Zoning Administrator (229) 259-3563

VA-2023-01 Dineshkumar Patel, 3095 James Road
Rezone 1.92 acres from PMD to C-H

Lowndes County Cases:

FINAL ACTION by the Lowndes County Board of Commissioners, 327 N. Ashley Street,
Valdosta, Georgia, Lowndes County Judicial and Administrative Complex Commission
Chambers, 2nd Floor, Tuesday, February 14th, 5:30 pm
Point of Contact: JD Dillard, County Planner, (229) 671-2430

REZ-2023-02 Thomas Property, Madison Highway, 0136-029C, ~10 acres
Current Zoning: R-1 (Low Density Residential)
Proposed Zoning: R-A (Residential Agricultural)

OTHER BUSINESS

ADJOURNMENT
-jsq
Investigative reporting costs money, for open records requests, copying, web hosting, gasoline, and cameras, and with sufficient funds we can pay students to do further research. You can donate to LAKE today!
http://www.l-a-k-e.org/blog/donate
Short Link: