Only 81 of 396 proposed units have been built at current Moody Family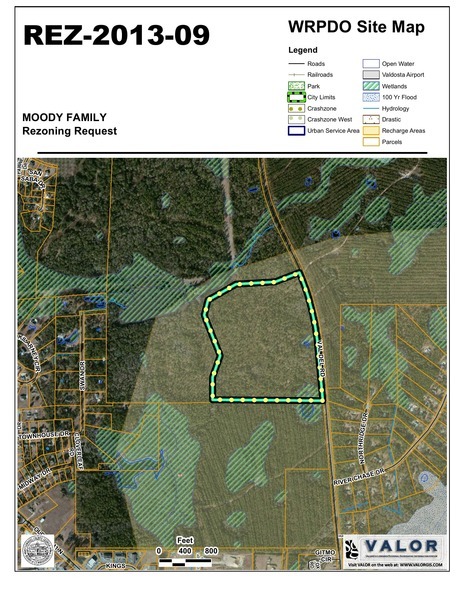 Housing on Roberts Road. Why should we build more on Val Del Road?
At the 29 July 2013 Greater Lowndes Planning Commission meeting, County Planner Jason Davenport said that in addition to the initial materials for GLPC, he'd provided an update about Magnolia Grove, which was Phase I of Moody Family Housing. The real reason for the rezoning wasn't stated in the initial materials given to GLPC. In the materials obtained through open records request, we can see that the GLPC agenda item contained the boilerplate "The general motivation in this case appears to be so that the subject property can be developed at a greater residential density." In the update it's assumed that the real reason is housing for Moody personnel, since Magnolia Grove is the existing Moody housing off of Roberts Road. Which isn't even built out yet, as you can see in this map from the county Tax Commissioners, so why does Moody need more housing?
Lots of interesting back history in that July 29th GLPC Lowndes County Rezoning Update – 2, to which I've added some links to the relevant County Commission minutes and interspersed some context:
In order to address questions regarding the status and history surrounding Magnolia Grove (Phase I of Moody Family Housing) please find the following information below:

2004-09-14 LCBOC approves LO-2004-59 or the initial Planned Development (PD) rezoning for Magnolia Grove (Moody Family Housing ~703.75 acres with 396 residential units))
The previous morning at the
Work Session of 13 September 2013 2004
:
Anne-Marie Wolff, Current Planner, presented Jason Davenport, new Associate Planner at the South Georgia Regional Development Center.
So Moody housing was Jason Davenport's first appearance before the Lowndes County Commission! At the time both he and Anne-Marie Wolff worked for SGRDC, before the county and the city of Valdosta hired their own planners, when Jason Davenport became County Planner. Also note in those minutes for later reference: "Charlie Clark, County Engineer".
Back to the GLPC update:
2005-07-12 LCBOC approves LO-2005-38 or the modified Planned Development (PD) rezoning for Magnolia Grove (Moody Family Housing ~11.26 acres with minor amendments to the previously approved development standards)
Here's the entire text for that item from the Commission minutes:
#05-1328 – LO-2005-38 – Moody Family Housing, A-U & C-N to P-D, 11.26 Acres, Davidson & Roberts Roads — Jason Davenport, Associate Planner, introduced the request:
Chairman Casey stated that the request was to rezone 11.2586 acres from A-U and C-N to P-D to provide more acreage for the 300 homes south of Moody Air Force Base.

NO ONE SPOKE AGAINST OR IN FAVOR OF THE REQUEST.

Motion by Commissioner Roberts to follow the recommendation of the Planning Staff and Planning Commission and approve the request, second by Commissioner Carter. Motion carried.
The same minutes record "Mike Fletcher, County Engineer".
Back to the GLPC update:
2006-05-09 ULDC Adopted (MAZ I, II, and III regulations and zoning districts put in place.)
There was a lot of opposition to the ULDC adoption: Tommy Stalvey Jr., Glen Gregory, Larry Wilkinson, Doarn Bland, and John Huff. Much of it concerned with the ULDC's lack of consideration of the needs of existing or future agriculture. Several people also spoke for, including Myrna Ballard for the Chamber, Bruce Bailey, "member of the Home Builders of South Georgia" and now its president and a member of the Planning Commission, Ken Rickett, and Sherry Gregory.
Back to the GLPC update:
2006-09-26 LCBOC approves text amendment clarifying MAZ density requirements (TEX-2006-02 '€" i.e. prohibited within the area lying within LDN 70:)
Here's what those LCC Minutes say:
TEX-2006-02 – ULDC Update – Phase I, County Planner, Jason Davenport, stated that staff had accumulated a list of concerns related to the ULDC which were being presented to the Planning Commission and then the Board of Commissioners in phases. Mr. Davenport presented the Commission with an updated map reflecting the location of the Moody Activity Zone (MAZ) in relation to residential development density. Commissioner Lee stated that it was important to protect Moody Air Force Base from residential encroachment, while being mindful to protect the rights of commercial development in the area that would not encroach upon the base mission. Chairman Casey added that the purpose of the amendment was to align noise corridors with the appropriate zoning density on the ground below, which in this case would be a 2.5 acre minimum. No one spoke for or against the request. Commissioner Lee made a motion to approve the text amendment, Vice Chairman Roberts second. Motion carried.
None of those numerous speakers from the previous hearing showed up for the amendment public hearing. Also note no concern stated for the rights of agriculture in the area. Wait, in Citizens Wishing to Be Heard:
Mr. Jerome Tucker, 5938 Jumping Gully Road, addressed the Commission stating that on behalf of the agricultural community, he would like to request a six month extension of the time to file a rezoning to a pre-ULDC zoning without cost to the applicant. Mr. Tucker added that most farmers do not have time to evaluate issues such as the ULDC until after the harvest as well as the fact that a poor harvest could financially influence decisions related to agriculture and/or development.
And later, in Reports:
County Manager, Joe Pritchard, stated that the Commission had discussed extending the time to file a request to rezone to a pre-ULDC zoning without cost to the property owner. Commissioner Lee stated that he had spoken with Mr. Jerome Tucker regarding the concerns of the agricultural community and that he thought the extension was a good idea. Vice Chairman Roberts made a motion to extend the time to January 1, 2007, Commissioner Lee second. Motion carried.
Oh, my! They can't do that any more, vote on something somebody asked for in Citizens Wishing to Be Heard, according to their 25 January 2011 Policies and Procedures for Citizens Wishing to be Heard:
8. The Board of Commissioners shall not vote on matters presented during "Citizens Wishing to be Heard."
Of course, the Chairman when they were adopted, Ashley Paulk, immediately set them all aside for that meeting and current Chairman Bill Slaughter made up a new rule 11 June 2013, so probably they could still vote if they wanted to. Yep:
Any failure to comply with these Policies and Procedures may be ruled out of order by the presiding member of the Board of Commissioners.
See that word, "may"? If the presiding member may rule compliance out of order, he or she may not, too.
Back to the GLPC update:
2013-07-10 81 units within Magnolia Grove constructed by Hunt Construction

Please expect physical copies of this e-mail and the attached materials to be available at the meeting tonight. Thank you.
81 is a tad less than the "396 residential units" proposed in 2004! According to the Lowndes County Tax Assessor's online database, that housing is owned by HP COMMUNITIES LLC of 4401 NORTH MESA, EL PASO, TX 79902-1107. Dun & Bradstreet says they're Real Estate Agents and Managers and their contacts are Chris Hunt, Linda Moore, and Stephanie Aguilar.
Here's the video:

Gated Moody housing on Val Del Road, REZ-2013-09
Regular Session, Greater Lowndes Planning Commission (GLPC),
Video by Gretchen Quarterman for Lowndes Area Knowledge Exchange (LAKE), Valdosta, Lowndes County, Georgia, 29 July 2013.
To be continued in the next post.
-jsq
Short Link: