Update 2022-01-22: Miller Bridge Rezoning back as R-A @ GLPC 2022-01-31.
Update 2022-01-09: Cancelled: Lowndes County Commission Meetings 2022-01-10, so expect the contentious Miller Bridge Road subdivision that was withdrawn last time to be back with larger lot sizes at the January 24 and 25 Commission meetings.
The contentious Miller Bridge Road Rezoning was withdrawn from the December Lowndes County Commission meeting, but the withdrawal letter said it would be back, possibly in January.
The Rocky Ford rezoning from industrial to residential did not pass; although Commissioner Clay Griner voted against and Scottie Orenstein abstained, the other three voted to deny.
They reappointed the incumbent, Rick Williams, to the Valdosta-Lowndes County Conference Center and Tourism Authority, even though Commissioners Demarcus Marshall and Joyce Evans voted for Nick Harden (who did attend the meeting).
Most everything else sailed through. The meeting was very long anyway, because there was only one December Commission meeting, so everything got lumped into one.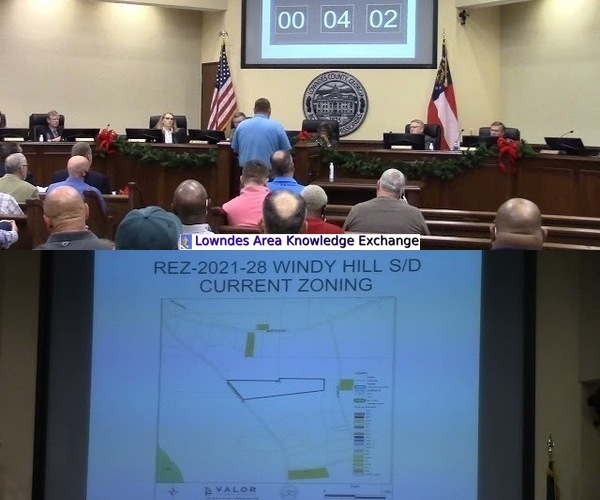 Two rezonings that did not pass
Below are links to each LAKE video of each agenda item, followed by a LAKE video playlist. See the LAKE videos of the preceding morning's Work Session and the agenda and board packet, received in response to a LAKE open records request. Two of them, actually, the second request was to get the petition from hundreds of opposing landowners.
See also the preceding Planning Commission agenda, the LAKE videos, and the meeting materials, received in response to LAKE open records requests.
Update 2022-01-03: Withdrawn but will return: subdivision in aquifer recharge zone near Little River, Lowndes County, GA @ LCC 2021-12-14.