Update 2021-12-12: Packet: Four big + 2 small county rezonings, four Valdosta rezonings, 3 of them CUP @ GLPC 2021-11-29.
The Greater Lowndes Planning Commission unanimously recommended denial of rezoning for a rezoning on Miller Bridge Road, outside any appropriate character area, but one of them frequently suggested trying 2.5-acre lots instead of 1-acre lots.
Another subdivision, on Rocky Ford Road, which was opposed by the Development Authority, got a split recommendation for denial, with that same Commissioner abstaining.
All the other items got unanimous approval.
One of the rezonings was actually to agricultural so the owner can farm it.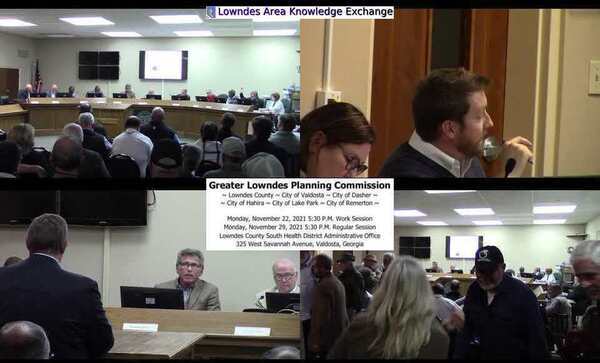 Two rezonings recommended against
The owners spoke for REZ-2021-28 on Miller Bridge Road, with the usual insistence that everybody wants to live in the north part of the county and you just can't stop growth and sprawl.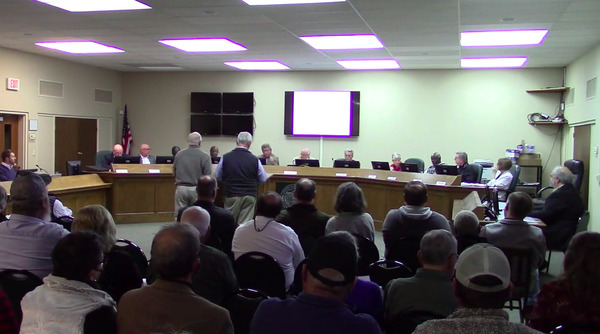 Owners, for REZ-2021-28, Miller Bridge Road
Attorney Brad Folsom spoke against, representing three hundred people who signed a petition.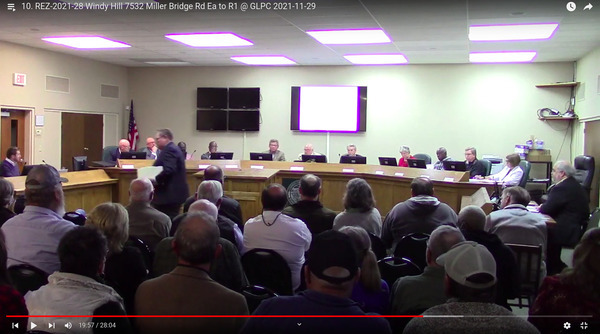 Brad Folsom for 300 signatories, against REZ-2021-28, Miller Bridge Road
Gretchen Quarterman spoke against, on behalf of WWALS Watershed Coalition, Inc., because the entire site is in an aquifer recharge zone.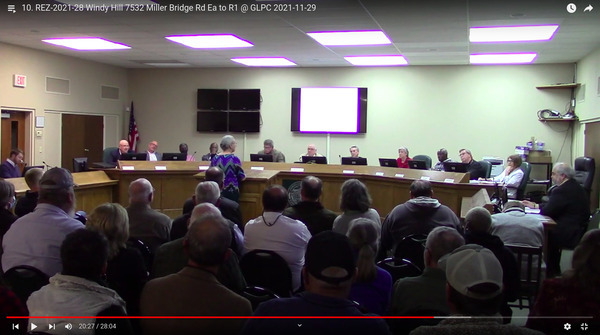 Gretchen Quarterman for WWALS, against REZ-2021-28, Miller Bridge Road
According to VALORGIS, the entire subject property is in a recharge zone for the aquifer from which we all drink.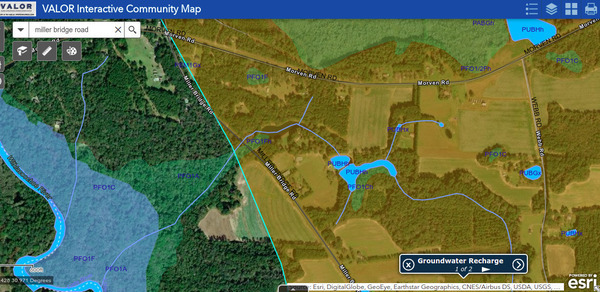 VALORGIS aquifer recharge zone, Miller Bridge Road
David Adams spoke against, discussing water control measures on the property arcoss the road that backs up onto the Little River.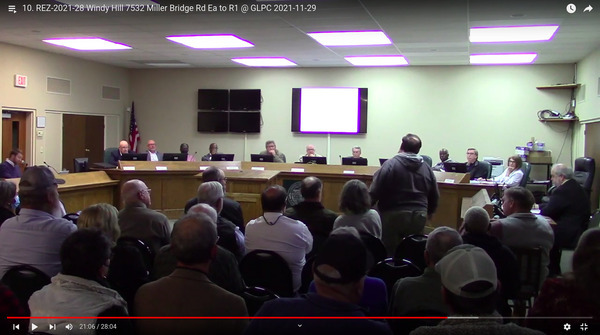 David Adams, against REZ-2021-28, Miller Bridge Road
Upon request, almost the entire room raised hands in opposition.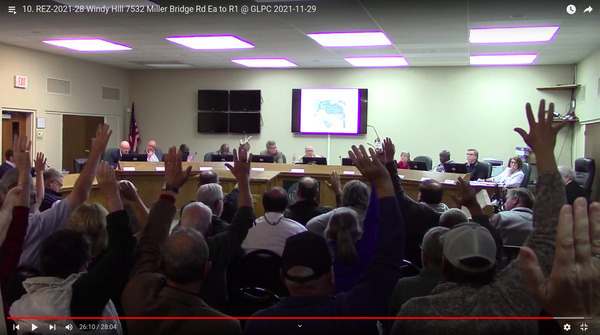 Hands against REZ-2021-28, Miller Bridge Road
The Planning Commissioners voted unanimously to recommend denial, on a motion from the aforementioned Commissioner Franklin Bailey, after he said he would be much more comfortable with 2.5-acre lots.
Be aware the Lowndes County Commission can, when it meets on December 14th, change the lot size to 2.5 acres and approve, or, for that matter, it can approve 1-acre lots.
Below are links to each LAKE video with a few notes by Gretchen Quarterman, followed by a LAKE video playlist. See also the agenda. When we get the board packet in response to our LAKE open records request, we will post that, too.
Here's a LAKE video playlist:

An inappropriate rezoning unanimously opposed, but beware return with different acreage @ GLPC 2021-11-29
Valdosta, Lowndes County, Georgia.
Video by Gretchen Quarterman for Lowndes Area Knowledge Exchange (LAKE),
-jsq
Investigative reporting costs money, for open records requests, copying, web hosting, gasoline, and cameras, and with sufficient funds we can pay students to do further research. You can donate to LAKE today!
Short Link: