Withdrawn as R-1 (1-acre lots) from tomorrow's Lowndes County Commission agenda, but to be resubmitted as R-A (2.5-acre lots):
REZ-2021-28 Windy Hill S/D, 7532 Miller Bridge Road, ~34 acres, E-A to R-1, Community Well & Septic (WITHDRAWN).
At the Planning Commission meeting end of November, staff said it did not match the Comprehensive Plan, and the Planning Commission unanimously recommended denial.
However, Planning Commissioner Franklin Bailey said, as he made the motion to disapprove, that he would be comfortable with 2.5-acre lots instead of 1-acre lots. The developer took him up on that idea with a written letter to the County Planner saying they would be back in January to ask for R-A rezoning, which will permit 2.5-acre lots.
Plus staff has dug up a 1999 rezoning nearby for 3-acre lots which could serve as a precedent. Yet almost none of those 3-acre lots have sold in the past two decades, so why is there any need for any more such lots "very deep in the Rural Service Area"?
That withdrawal letter says:
We would like to formally withdraw the rezoning application REZ-2021-28. We will be resubmitting a request for R-A zoning to be turned in by the aforementioned deadline of January 5th to get on the next round of meetings.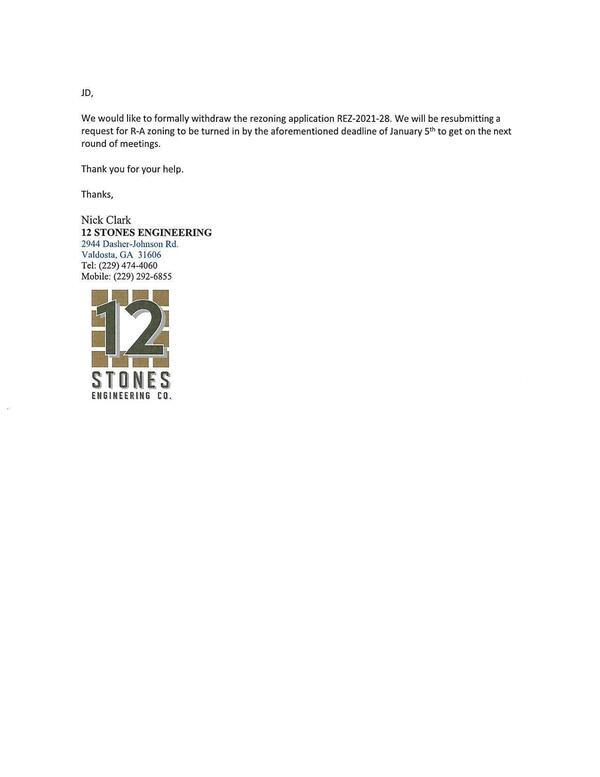 Formal withdrawal to resubmit for R-A zoning by January 5, 2022.
A wrinkle in their plan is that the Planning Commission does not meet in December, so they can't run their new rezoning by that body until the end of January. So it seems they can't get it back before the Lowndes County Commission until February.
Interestingly, staff has dug up a rezoning from 1999 on Miller Bridge Road but not as far north, between Parker Road and Hall-Webb Road:
The subject property is located within the Rural Service Area (RSA) of the Comprehensive Plan and depicted as Agriculture/Forest on the Plan's Future Land Use Map. The National Wetlands Inventory (NWI) maps depict possible wetlands on the westem portion of the property in association with the Little River floodplain.

The applicant is proposing to rezone and develop Phase I (eastern 59.91 acres) for now, which would consist of 14 lots of 3 acres each, an equestrian pasture consisting of 7.34 acres, and a landscaped buffer area along Miller Bridge Road. The development will be deed restricted with minimum house sizes of 3,000 square feet. The remaining western portion consists of pasture as well as both 100-year floodplan (F-H zoning) and jurisdictional wetlands which have not yet been delineated. With exception of perhaps 2-4 additional lots in Phase II, the applicant is proposing to reserve all of this area as open space for the entire development. The detailed plan for Phase II will be presented for consideration once the wetlands and 100-year floodplain have been properly delineated.

This is located very deep in the Rural Service Area where minimum lot sizes are prescribed to be 5 acres or greater. The surrounding land use pattern is both agricultural and rural residential and it generally fits this low density goal of the Comprehensive Plan. Under the current A-U and F-H zoning, the property could be subdivided into about 20 5-acre lots. The applicant is proposing to maintain this overall low density pattern by allocating the density allowed under the A-U zoning (5-acre lots) into slightly smaller lots and reserve the remaining acreage as open space. With just the 14 lots of Phase I, the net density will be about 8.2 acres per lot. Even with the addition of 4 more lots in Phase II, the net density will be about 6.4 acres per lot.


LO-99-08 J. Mark Eager, west side of Miller Bridge Road, 125.6 acres, A-U and F-H to P-D, GLPC Jan 1999

Staff Recommendation:

Find "consistent with the Comprehensive Plan", and recommend approval with the following conditions:

The Phase I area (59.91 acres) shall be rezoned to Planned Development (P-D) in accordance with the submitted master plan.
The remaining A-U portion shall be rezoned to "conditional" A-U(c); with a sufficient amount of acreage being reserved (a little less than 20 acres) to make the lots in Phase I net at least 5 acres each. This remaining area shall be submitted later for consideration (rezoning) as Phase II of the development.
The F-H portion of the property shall remain unchanged.
Uses of the Planned Development shall be restricted to all uses currently allowed in Single-family Residential (R-1) zoning as well as equestrian and passive recreational uses.

Greater Lowndes Planning Commission January 1999
The applicant appears to have gotten ten (not 14) 3-acre lots, apparently on the roads they made, Shiloh Ridge Trace leading to Hidden River Run.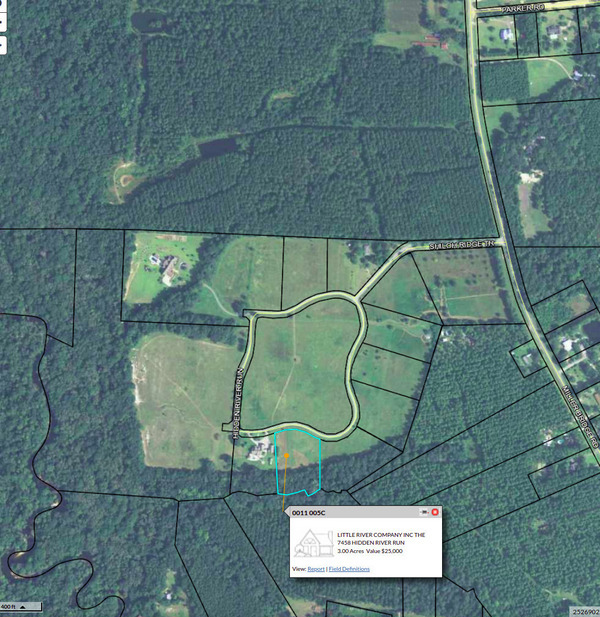 Hidden River Run, Lowndes County Tax Assessors Map.
However, it looks like only two of those 3-acre lots have sold in the past two decades, and only one of those two has a house on it, 7452 Hidden River Run.
Another, 7297 Miller Bridge Road, is owned by Bobby King, the Registered Agent, CEO, CFO, and Secretary of The Little River Company, Inc., established April 19, 1999. Georgia Secretary of State has that Company as Admin. Dissolved because of "Last Annual Registration Year: 2012". Nonetheless, the Tax Assessors record the rest of the 3-acre lots and much of the rest of the nearby property as owned by "LITTLE RIVER COMPANY INC, THE".
A 14.95 acre lot is owned by the estate of the late an estate with trustee David J. Drew. Update 2021-12-27: I read that backwards the first time; fixed now.
Since very few of those 3-acre lots have sold in the past 20 years, why is there any need for more such lots in far north Lowndes County, "very deep in the Rural Service Area"?
The Comprehensive Plan says, for Agriculture/Forestry/Conservation Area:
DEVELOPMENT STRATEGY: The rural character should be maintained by strictly limiting new development and protecting farmland and open space by maintaining large lot sizes and promoting use of conservation easements. Residential subdivisions should be severely limited and any minor exceptions should be required to follow a rural cluster zoning or conservation subdivision design. New development should not utilize "franchise" or "corporate" architecture but instead should use compatible rural architectural styles. Roadways should be widened only when absolutely necessary. Roadway alterations should be carefully designed to minimize visual impact. These areas should be promoted for passive-use tourism and recreational destinations.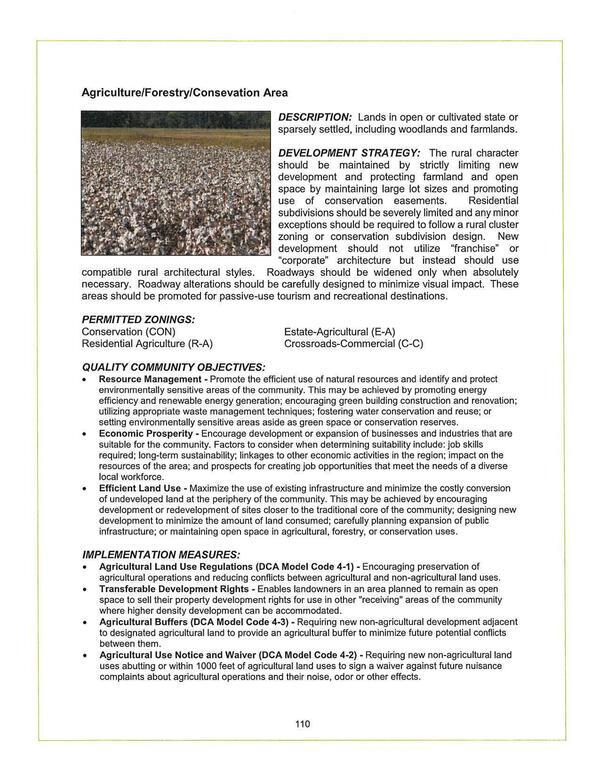 Agriculture/Forestry/Consevation Area
But of course it doesn't say what "large lot sizes" is.
So don't be surprised if the Windy Hill applicant comes back with 3-acre or even 2.5-acre lots and claims this 1999 rezoning as a precedent.
The Planning Commission also recommended denial of REZ-2021-26 Ridgecrest at Rocky Ford Road, ~37 acres, M-2 to R-10, County Utilities.
That one has not been withdrawn, and the County Commission can decide to approve it anyway. My guess would be that they won't, because the Development Authority does not want that rezoning, but we shall see.

Here is the agenda. The entire board packet, received in response to a LAKE open records request, is on the LAKE website. See also the LAKE videos of the preceding Planning Commission meeting.
-jsq
Investigative reporting costs money, for open records requests, copying, web hosting, gasoline, and cameras, and with sufficient funds we can pay students to do further research. You can donate to LAKE today!
Short Link: