The current top news entry on lowndescounty.com is January 10 & 11, 2022 Commission Meetings Cancelled,
The January 10, 2022 and January 11, 2022, Commission meetings have been cancelled due to the lack of agenda items needing immediate attention.
The calendar entries for the Monday morning Work Session and the Tuesday evening Regular Session are marked "Cancelled".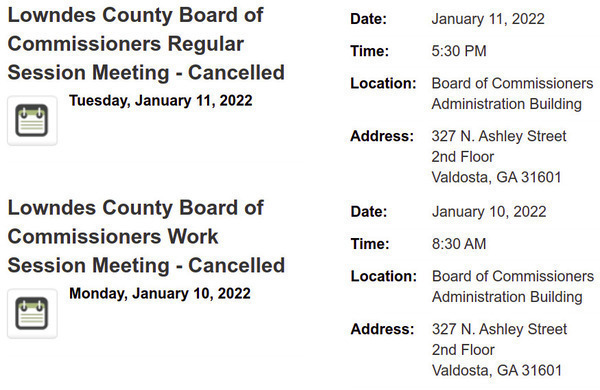 Regular and Work Sessions Cancelled
So expect the contentious Miller Bridge Road subdivision that was withdrawn last time to be back with larger lot sizes at the January 24 and 25 Commission meetings.
-jsq
Investigative reporting costs money, for open records requests, copying, web hosting, gasoline, and cameras, and with sufficient funds we can pay students to do further research. You can donate to LAKE today!
Short Link: