The agenda sheet says "the applicant's conceptual site plan is attached." But of course we the taxpaying, traffic-affected, and water-drinking public don't get to see it.
Why the Lowndes County Commission considering rezoning for a subdivision that its own staff says doesn't fit the Comprehensive Plan Character Area, is outside the Urban Service Area, would add significant traffic, and many neighbors spoke against it, plus the Planning Commission recommended denial? The Commission tabled in October, and again in November, when Commissioners asked for an update, but now staff says, "There are no updates to the overall case status."
If they can't deny this one, what rezoning can they ever deny?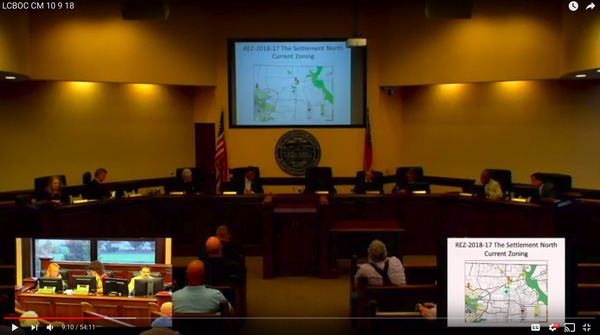 Photo: Still by LAKE from Lowndes County Commission video of its 9 Oct 2018 Regular Session.
Here is the agenda. See also REZ-2018-17 on the agenda last month and the LAKE videos ofhttp://www.l-a-k-e.org/blog/2018/12/videos-subdivisions-solar-and-alcohol-lcc-2018-11-12.html">the 12 Nov 2018 Work Session and the 13 Nov 2018 Regular Session, and the county's own videos of the 9 Oct 2018 Regular Session. The county did not post its own video of its Work Session. LAKE did get a copy by open records request, and will post it.
LOWNDES COUNTY BOARD OF COMMISSIONERS
PROPOSED AGENDA
WORK SESSION, MONDAY, DECEMBER 10, 2018, 8:30 a.m.
REGULAR SESSION, TUESDAY, DECEMBER 11, 2018, 5:30 p.m.
327 N. Ashley Street – 2nd Floor
-jsq
Investigative reporting costs money, for open records requests, copying, web hosting, gasoline, and cameras, and with sufficient funds we can pay students to do further research. You can donate to LAKE today!
Short Link: