Update 2015-08-07: corrections by Nydia, including a timeline.
Only a bit more than three years since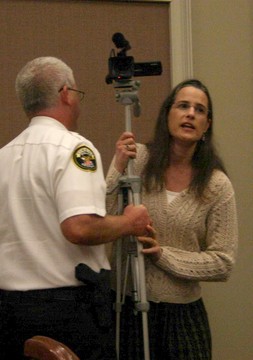 the pictured incident, Nydia Tisdale gets some of the recognition she deserves.
Georgia Woman Wins First Amendment Award for her Citizen Journalism, Fighting for the Right to Record,
Georgia citizen journalist Nydia Tisdale is in the news again but this time, the story doesn't involve her getting thrown out of a public meeting or arrested in a pumpkin patch.

Tisdale is being honored by Georgia's First Amendment Foundation for her work in making public meetings available to the citizens of her community and for her dedication to keeping government open for everyone's participation.
After getting thrown out of the Cumming City Council for videoing in April 2012, Nydia got invited back to the front row that May. Eventually, with the help of Georgia Attorney General Sam Olens, Nydia settled the Cumming case for $200,000.
In August 2014 a pumpkin farm landowner had Nydia ejected for sitting in the front row of a Republican campaign rally that she had helped advertise. When she got her camera back from the Sheriff's office, she posted her own video of getting arrested and assaulted by a Sheriff's deputy. The video had gotten curiously truncated during its stay with the Sheriff's office. But another journalist, sitting one row back, recorded the sounds of Nydia screaming for help while a Republican candidate laughed.
While Before waiting for justice about that pumpkin farm assault, Nydia was thrown out of a local Republican Women of Forsyth County, GA event. She asked for an apology, and, getting none, filed for a criminal arrest warrant. The culprit, Peggy Green, still refused to apologize until the court date arrived, when she apologized to Nydia to avoid jail time.
Timeline courtesy Nydia:
Mayor H. Ford Gravitt at Cumming City Council meeting – April 17, 2012
Peggy Green at Republican Women of Forsyth County candidate meet-and-greet – April 16, 2014
Dawson County Sheriffs Deputy, Capt. Tony Wooten at Burt's Pumpkin Farm at GOP rally for Gov. Nathan Deal – August 23, 2014
Elected officials, candidates, and party functionaries who don't like being videoed at public meetings better watch out. Cummings got off easy for that $200,000. In Idaho, Alma Hasse has sued for $1.5 million for wrongful arrest by a local appointed body.
If you don't want to be videoed at a public meeting you yourself advertised, we the people may just do it anyway. And if you eject or arrest the videographer, you may find your self in a whole heap of trouble.
Remember, Georgia has an Open Meetings Law, which says in O.C.G.A. §50-14-1(c):
Visual and sound recording during open meetings shall be permitted.
It doesn't say whenever or wherever the Chairman feels like it, or only by people the Chairman deems to be reporters, and not according to an alleged ordinance not on the agenda, not read to the public, and still not in a county's online list of ordinances. It says "shall be permitted" with no qualifications.
Congratulations to Nydia Tisdale for standing up for we the people!
-jsq
Short Link: